Everything seemed to be in slow motion as we glided through the channel in a fibreglass mokoro like a knife through runny honey. The water lily-dotted water was as silvery, calm and flat as a mirror, reflecting a big sky full of rain clouds. Serenity reigned, and the stillness was punctuated by the cooing of doves and the occasional distant cry of a fish eagle, the sound of the breeze in the reeds and the chirruping of insects, the thwop of the pole going in the water and the piggy grunts from a pod of hippos.
This was just a tiny slice of the massive Okavango Delta, Africa's last wetland wilderness, which stretches across 8000 square kilometres of north western Botswana. After the mokoro ride I had more of a glimpse of just how wild and vast the Delta is by flying above it in a small four-seater helicopter with Helicopter Horizons, taking off from a small village near the mokoro launching point. Pilot Andrew Baker took us up 400 feet to get a planet-curving view over a part of the Delta that can't be accessed by road – channels, lagoons, ilala palms and marshes full of animals and birds. We skimmed down to a giraffe's view point – just 2.5 metres above the ground and flew past treetop fish eagles, startled warthogs, nonchalant giraffes, zebras and wildebeest.
The Okavango Delta was a spectacular introduction to a nine-day trip through northern Botswana with Jenman Safaris. From this southern finger of the Delta, which was near the town of Maun, we headed north in our open-sided Land Cruiser up to a lodge in the bush in Mababe, a community-owned concession bordering on the southern end of Chobe National Park, where we stayed for three nights in canvas tents, falling asleep to a soundtrack of thunderstorms, grunting hippos and roaring lions.
It was my first time in the bush during the rainy season – I'd only ever gone on safari in southern Africa in the winter months when the vegetation is dry and sparse, and thirsty animals congregate around watering holes, making them easy to spot. The rainy season is an entirely different story. I travelled in March, which is right at the end of months of rain, when vegetation is at its most lush. The grass is thick, trees are full of leaves and water is plentiful, meaning animal spotting is far more challenging. On our three days that we stayed in the area, exploring the community-owned concessions and national parks – Khwai, Mababe, Chobe and Moremi – nearby on long drives on muddy and puddle-filled roads, we had to hunt for game, and when we found it there was much more of a thrill than in the dry season, when you don't have to try at all.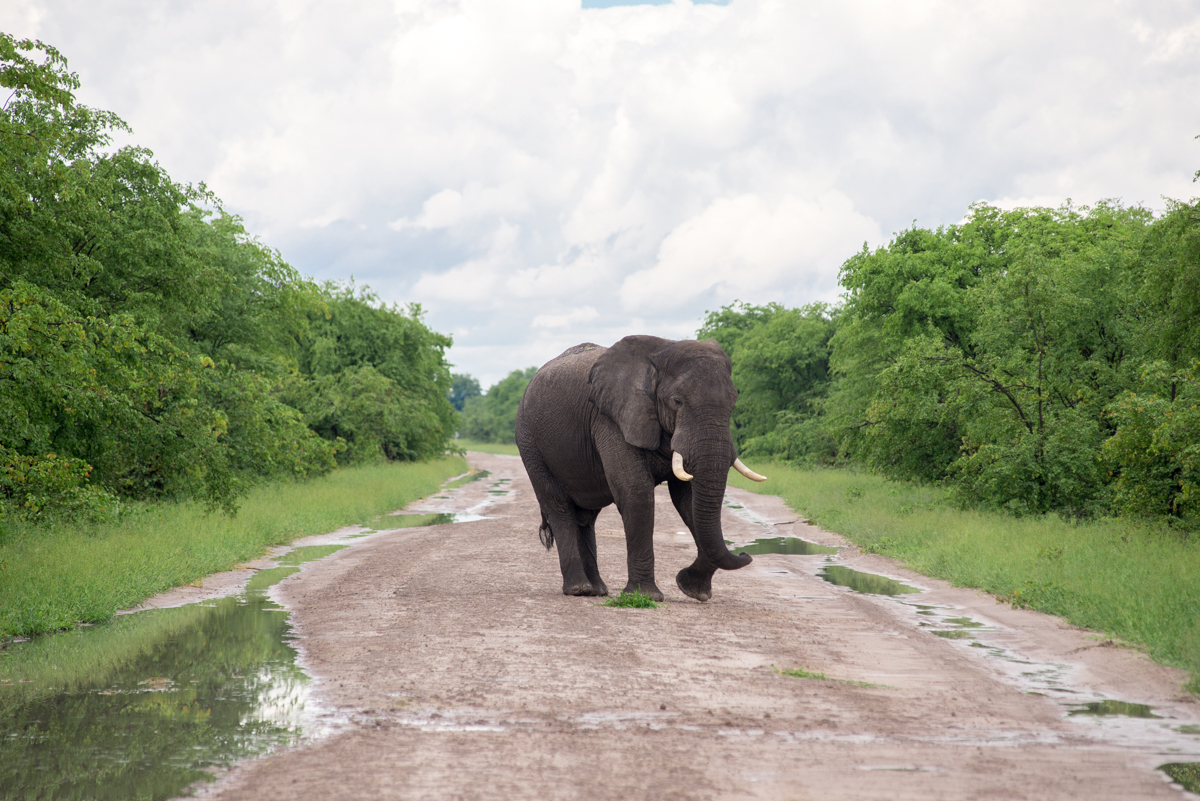 We tracked a male lion's paw prints and followed his sporadic grunts in the early pink-dusted morning, off roading through the concession to try and find him – to no avail, but we did spot a pair of bat-eared foxes instead. In the course of our drives, we also saw elephants, waterbuck, giraffe, lots of zebra and hippos, wildebeest, buffalo, a pair of red lechwe with horns locked, seemingly fighting to the death, a jackal, bands of mongooses, a tongue-flicking monitor lizard and lots and lots of birds. Green season is the best time for birding, and I've never seen as many species in one go as I did in those three days: tawny, bateleur, fish and brown snake eagles, African darters, cormorants, long-toed lapwings, eagle owls, kingfishers, coppery-tailed coucals African jacanas, open billed storks, herons, sacred ibis, egrets, and my favourite – lilac breasted rollers.
Other than prolific bird life, the rainy months do come with a lot of advantages – spectacular thunderstorms (which bring lovely cool temperatures and intense herby, earthy smells), beautiful landscapes (shooting animals against green is so much more photogenic than against a backdrop of the browns and greys of dry season) and low tourist numbers: on one seven-hour game drive we only saw three other safari vehicles.
From Mababe we made an epically long journey to Kasane and the northern end of Chobe National Park, travelling on sandy, muddy and wet tracks through the Savuti area of Chobe National Park and Chobe Forest Reserve, taking nine hours to travel 265 kilometres, spotting game all along the way and stopping off to see bushman rock paintings of an elephant, eland and an antelope, estimated to be 20 000 years old at Gobabis in Savuti – a reminder of just how long people have lived alongside the animals we now confine to the limits of parks and reserves.
Arriving at a lodge on the banks of the of the Chobe River just outside of the town of Kasane felt like re-entering civilisation again after days of wilderness. Our last day of game viewing was on land in Chobe National Park in the morning, where we had the lucky sighting of two lazy leopards up in a tree, sleeping in the early morning sunshine with their legs trailing over the branches, and on water in the afternoon, where we cruised slowly on the river, spotting kingfishers and fish eagles, crocs, munching hippos, giraffes drinking awkwardly on their spindly legs and a herd of elephant taking an afternoon mud bath.
It was a quick drive over the border to Victoria Falls in Zimbabwe, where we got a thorough rainy season soaking by Mosi-oa-Tunya – the Smoke that Thunders. The largest curtain of water in the world – and one of Africa's greatest sights – was the perfect ending to a trip packed full of wildlife, wilderness and non-stop natural highs.
Here's my photo blog with more images from my Botswana safari.
My 9-day Botswana safari was hosted by Jenman Safaris. Find out more about this overland trip and other African safari trips Jenman offers here.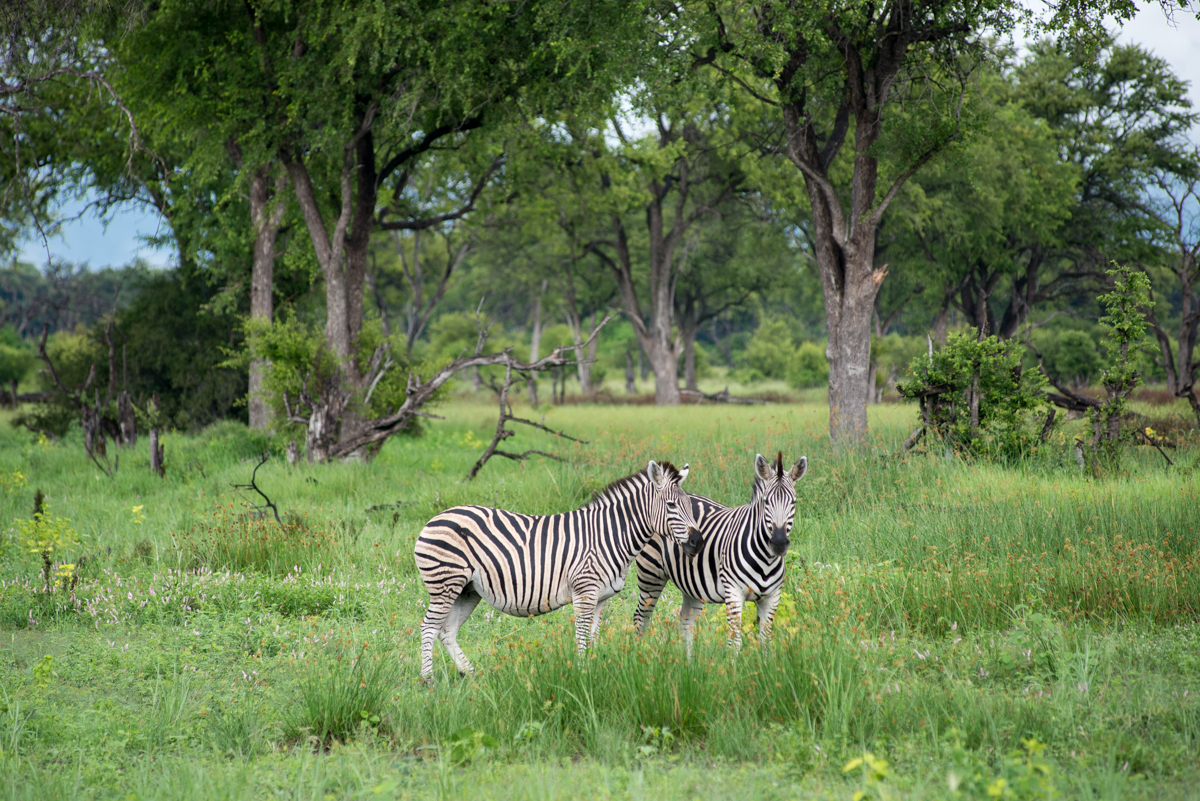 Google+