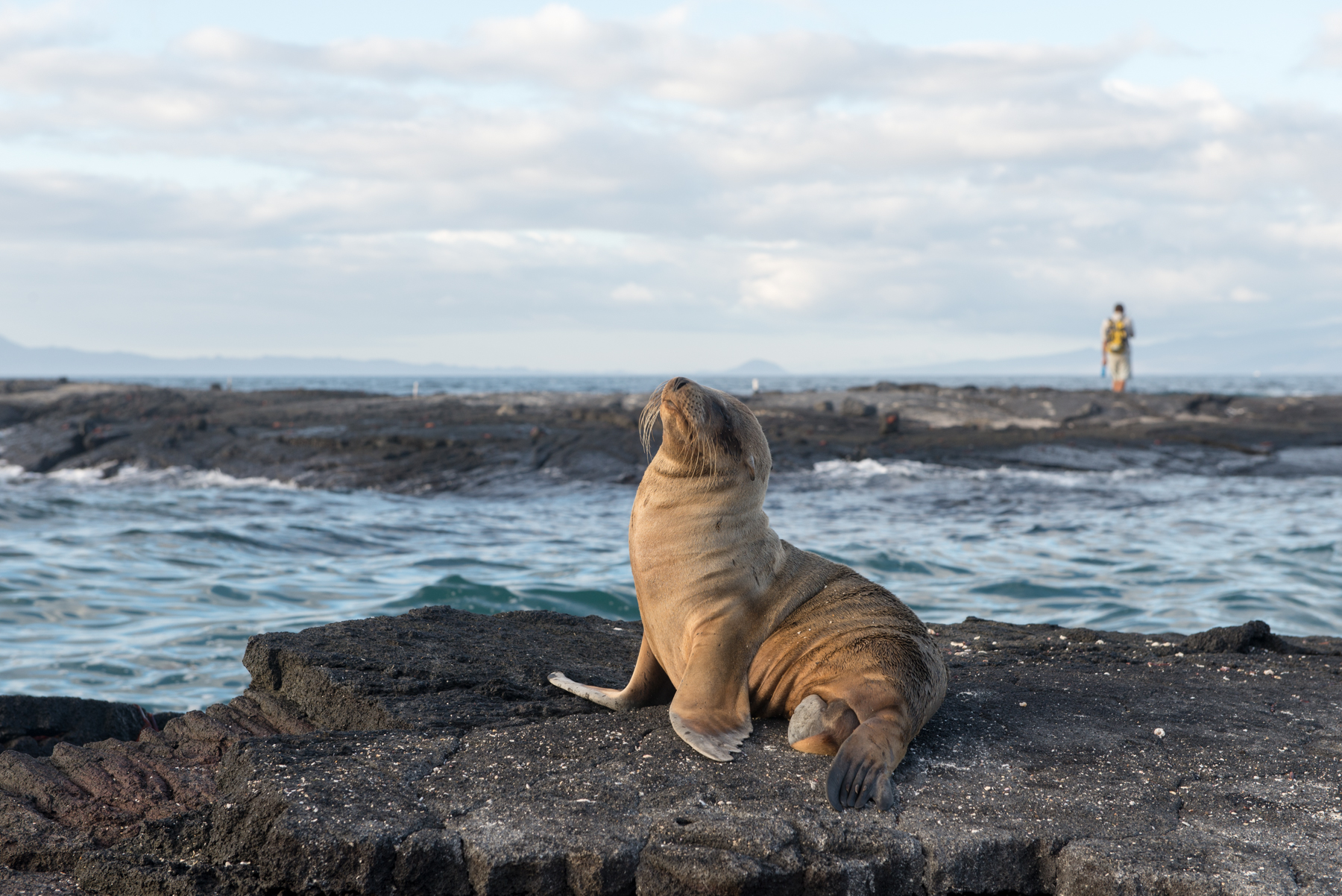 "No area on Earth of comparable size has inspired more fundamental changes in Man's perspective of himself and his environment" said ornithologist Robert Bowman of the Galápagos Islands, which he surveyed for UNESCO in 1957.
Humans first stepped ashore on the Galápagos Islands, which lie just less than a thousand kilometres offshore from Ecuador in the Pacific Ocean, five centuries ago. Since then these extraordinary volcanic islands have taken a hold of our imagination, and they remain one of the most naturally fascinating places on Earth with a unique biodiversity of species.
From the moment you land on a hot, dry, barren patch of land and disembark in an open-air airport filled with the sound of tweeting finches, it's like you're in another world. In this world, the largest land animals are impossibly giant tortoises and fat pink, orange and black iguanas, which lie on top of one another in scaly piles and snort projectile jets of salty water into the air. There are tiny penguins who once came from another colder environment on the other side of the planet, and have now adapted to life in the tropics, birds with artificial-looking blue feet and cormorants with wings that no longer work. There are very few natural predators here (not counting humans), so the animals have evolved to be fearless. As a result, you need to watch where you're walking in case you step on creatures sunning themselves on pathways.
Under the water, marine life is equally rich. On snorkelling trips we swam with white tip reef sharks, playful sea lions, placid turtles, zippy penguins, huge sun fish, manta rays and flightless cormorants. In the sea, animals are as devoid of fear as they are on land, so penguins and cormorants dive into the ocean centimetres away from you and sea lions invite you to join them in a balletic synchronised show of leaping in and out of the water.
Every day you spend in the Galápagos is different. Each day you step on the shore of a new island with a unique geological history – collapsed craters and solidified fields of lava telling the physical story of their formation – and its own species, adapted to live there and nowhere else. Each day you learn more about the complexity of evolution. To visit the Galápagos Islands is so much more than a holiday – it's like getting an education in nature.
How to visit the Galápagos Islands
The main thing you need to decide on when planning a trip to the Galápagos Islands is whether you want to stay at a hotel on land or go on a cruise. If you stay on land, you can pick and choose what day trips you'd like to do – snorkelling, visiting other islands and boat cruises. If you go on a cruise, you see a lot more of the islands and don't have to spend time on travelling (the boats generally cruise to the next island at night while you're sleeping).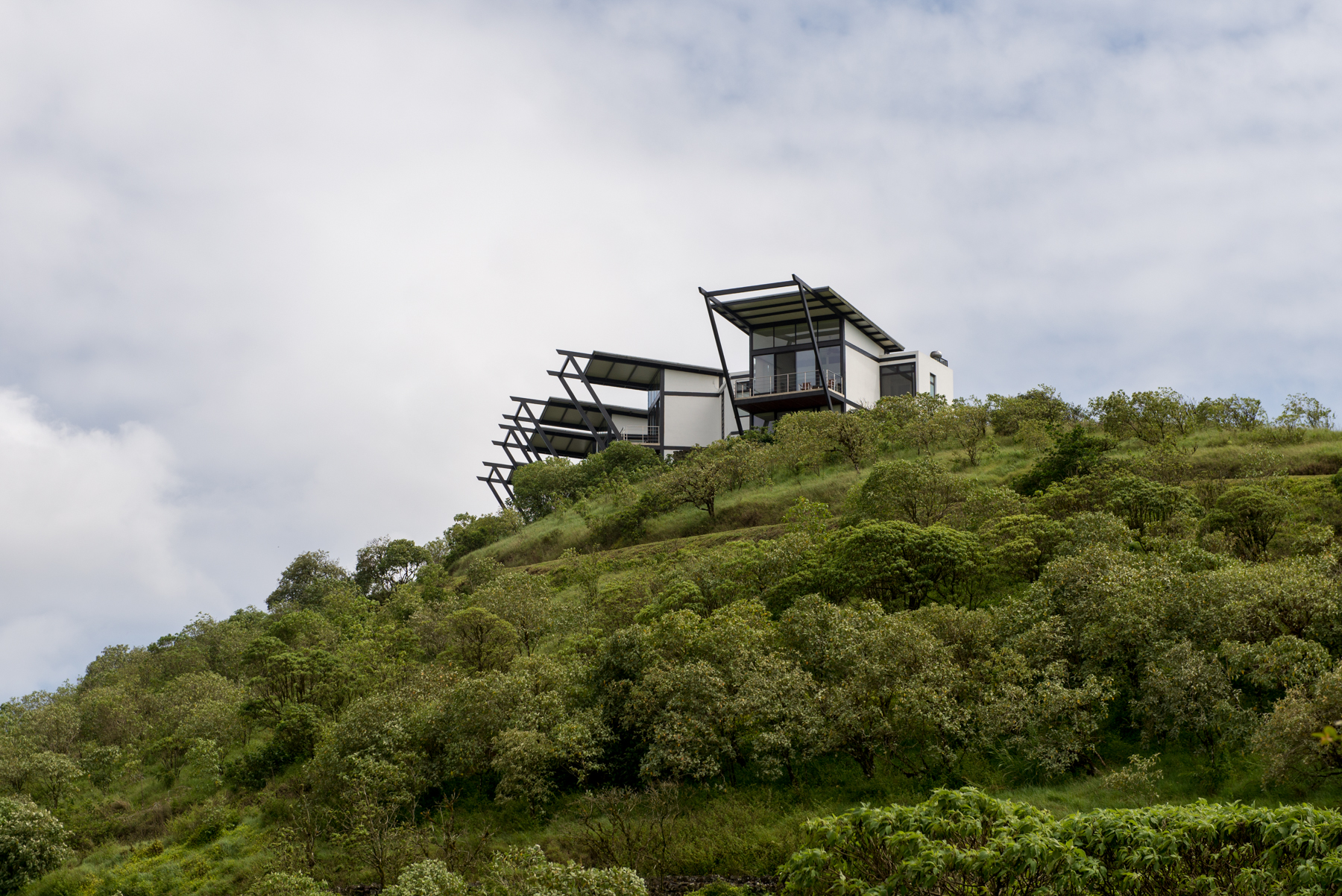 I couldn't decide which option to pick, so I chose both. I stayed at the newly-opened Pikaia Lodge, set on a ridge in the highlands of Santa Cruz Island with expansive views over lush green plains to the ocean. The only sign of human habitation visible from the lodge are the big wind turbines of the airport in the far distance. The lodge has a sleek, modern design with floor-to-ceiling glass walls that make the most of the views, a huge rim-flow pool, fabulous spa and an aesthetic inspired by science in the form of decor such as a double helix steel sculpture. The library is filled with books on Darwin and evolution, and in the evenings you can watch David Attenborough's documentary on the Galápagos in 3D on the giant TV screen. Each day's activities are different, and for snorkelling trips and visits to other islands, the lodge has its own luxury yacht.
For the cruise, I stayed on the M/V Santa Cruz, a 90-passenger boat with luxury cabins, a big deck, Jacuzzi, dining room and lounge where there was a scientific presentation every day and excellent, super knowledgeable naturalist guides. Ours was a six-day Western itinerary that took in visits to North Seymour, Isabela, and Fernandina Island where we walked ashore and snorkelled in coves and at offshore reefs, as well as the Charles Darwin Research Station on Santa Cruz and a stop off at the famous post office barrel on Floreana Island, where you drop off a postcard and wait for another visitor to pick it up and hand deliver it to the address.
Both Pikaia Lodge and the M/V Santa Cruz can be booked through the Mantis Collection.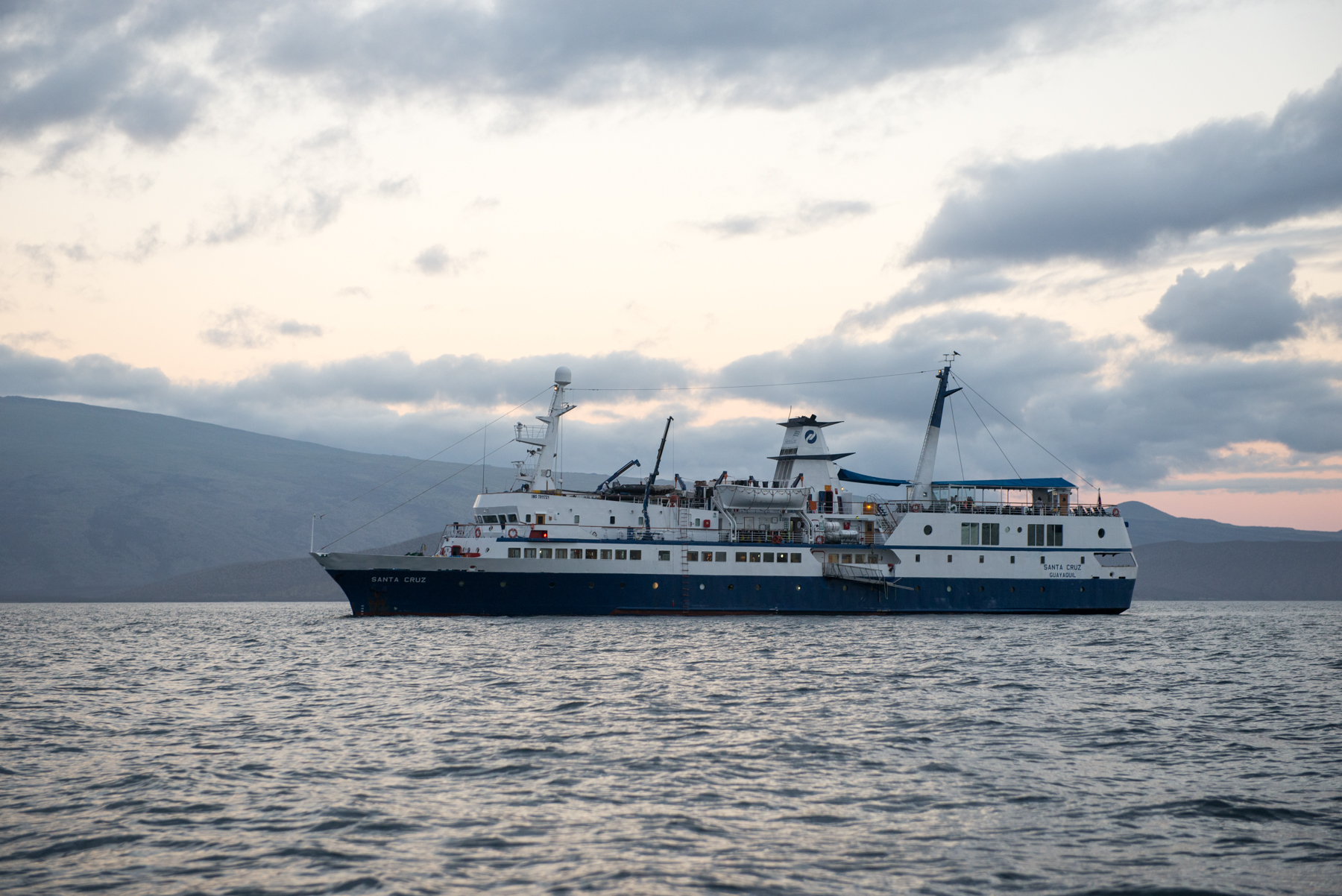 Responsible tourism 
Like almost every ecosystem in the world, however, this natural wonderland hangs in a delicate balance. Many conservation projects on the islands have been funded in part by visitors, and tourism provides an incentive to protect the wildlife of the Galápagos, but each visitor who comes here has an impact on the fragile ecosystem. Boats ship in the food tourists and the locals consume, bringing in invasive species like ants and flies with them. There are pollution and waste problems. Several native species are now on the brink of extinction. It took us hundreds of years to stop exploiting the Galápagos Islands after we first discovered them and to turn to conservation.
When you visit the Galápagos, try to reduce your impact by consuming as little as possible, and taking away some of your waste with you when you leave. Don't bring in any plants or animals to the islands, and wash your hiking shoes before you leave home to make sure you don't bring in any seeds stuck to your soles. Choose where you stay wisely – pick lodges and cruise ships that are committed to eco-friendly practices.
The Charles Darwin Foundation, an independent scientific research station which runs important conservation projects on the island, is desperate for funds now that the government has shut down its souvenir shop. Even if you don't visit the Galápagos, consider donating money to the foundation to help fund their projects.
Google+