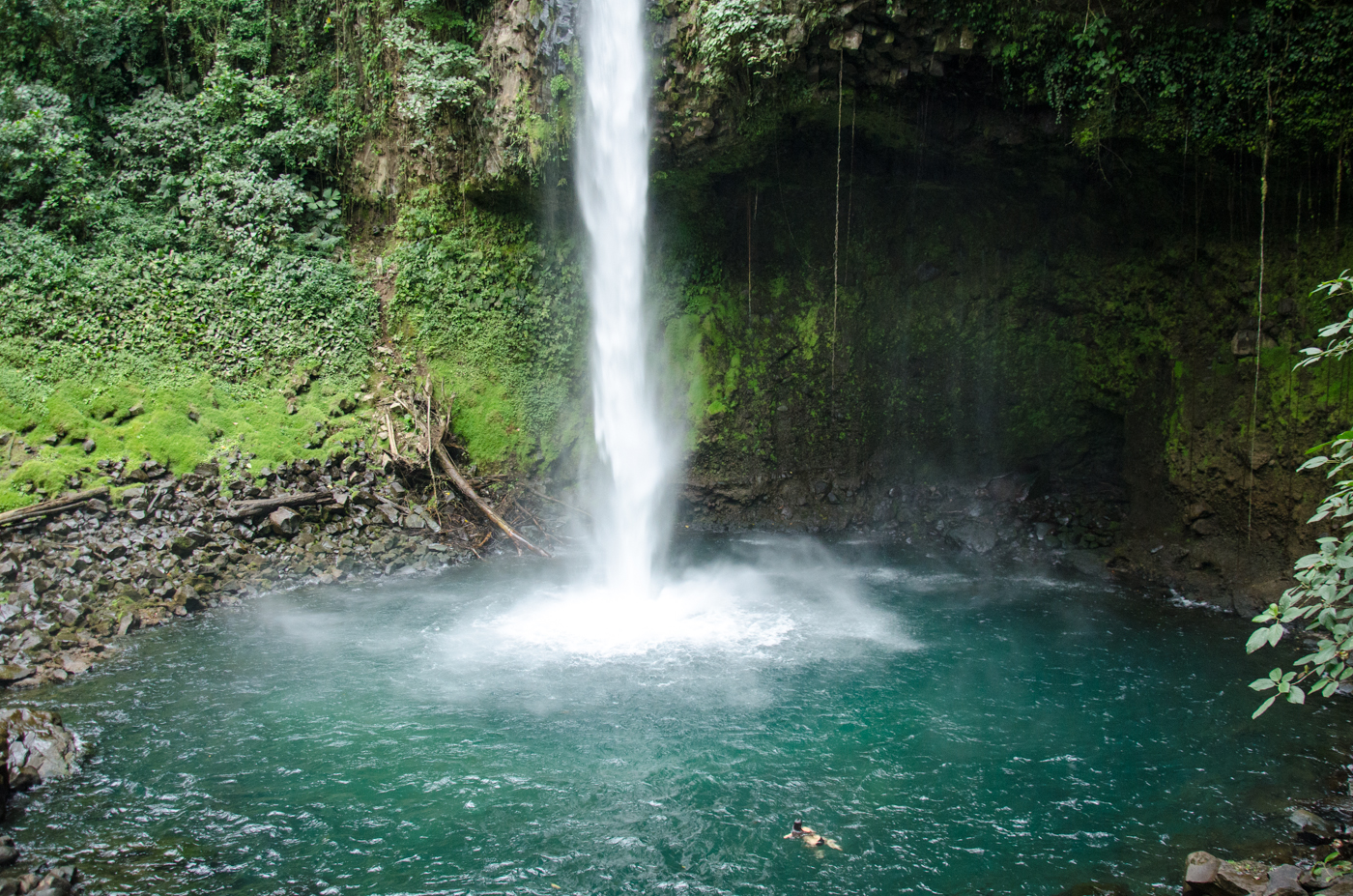 It was like being inside a "Sounds of the Rainforest" CD. Standing on a suspension bridge high above a Costa Rican cloud forest, with the sound of a thousand tweeting birds, gentle humming of insects and a breeze rustling couch-sized tree leaves, I was transfixed. Everyone else had moved on to the hummingbird garden, and I was left alone to watch huge swathes of mist sweep over a sea of trees as the cottonwool sky closed in.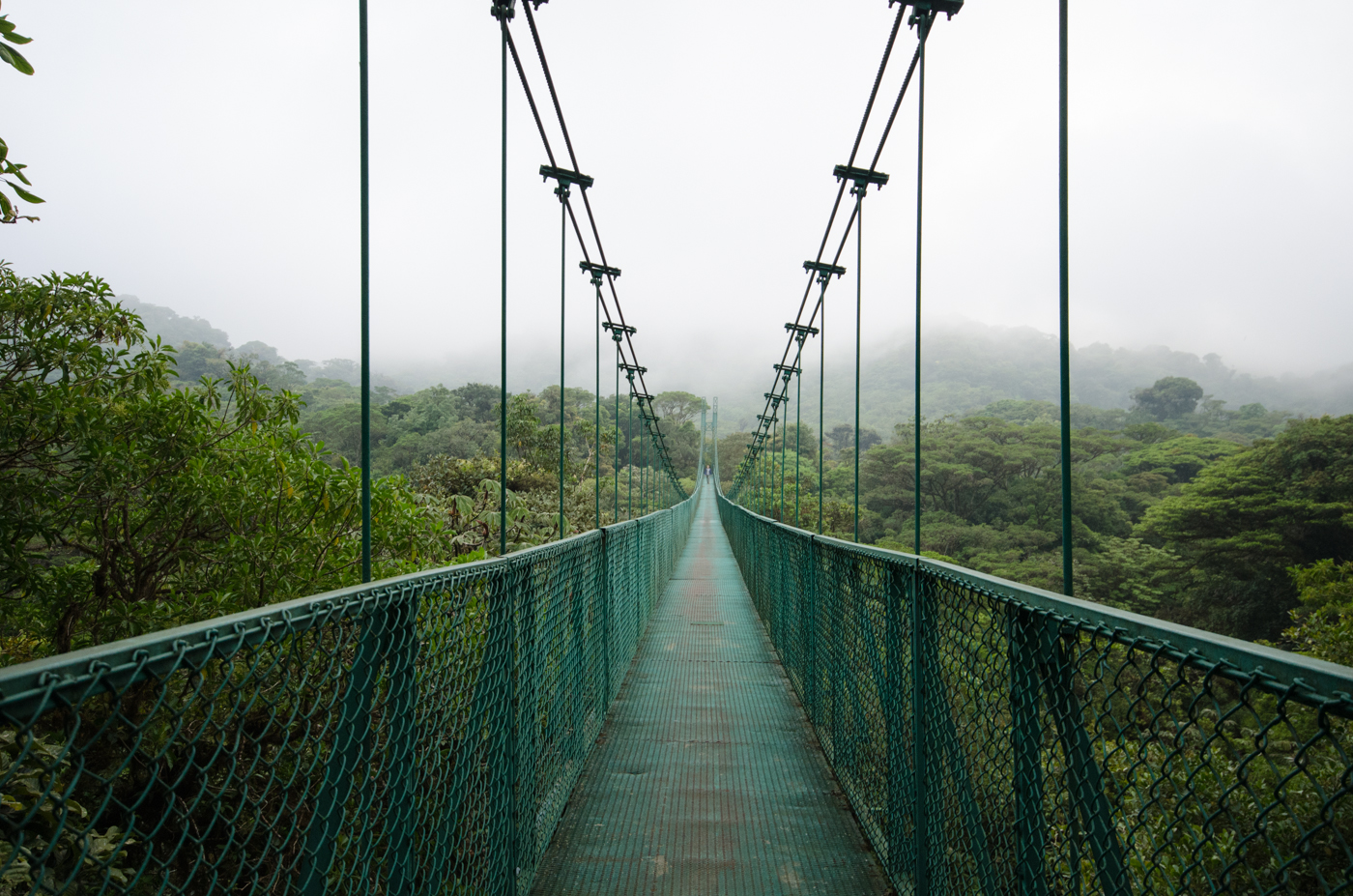 That magical moment in the Monteverde Cloud Forest Reserve, sandwiched between adrenaline-inducing canyoneering and ziplining, was just one of the highlights of a 10-day whirlwind trip through Costa Rica with Contiki.
A bus painted in the colours of a paper umbrella in a tropical cocktail took our group of travellers from around the world from San Jose in the centre of Costa Rica to the Caribbean coast on the east, back to the volcanic central plains and then west to the Pacific Ocean, traversing roads winding through mountains like the folds of a soft green blanket and through mist-wreathed forests of giant trees.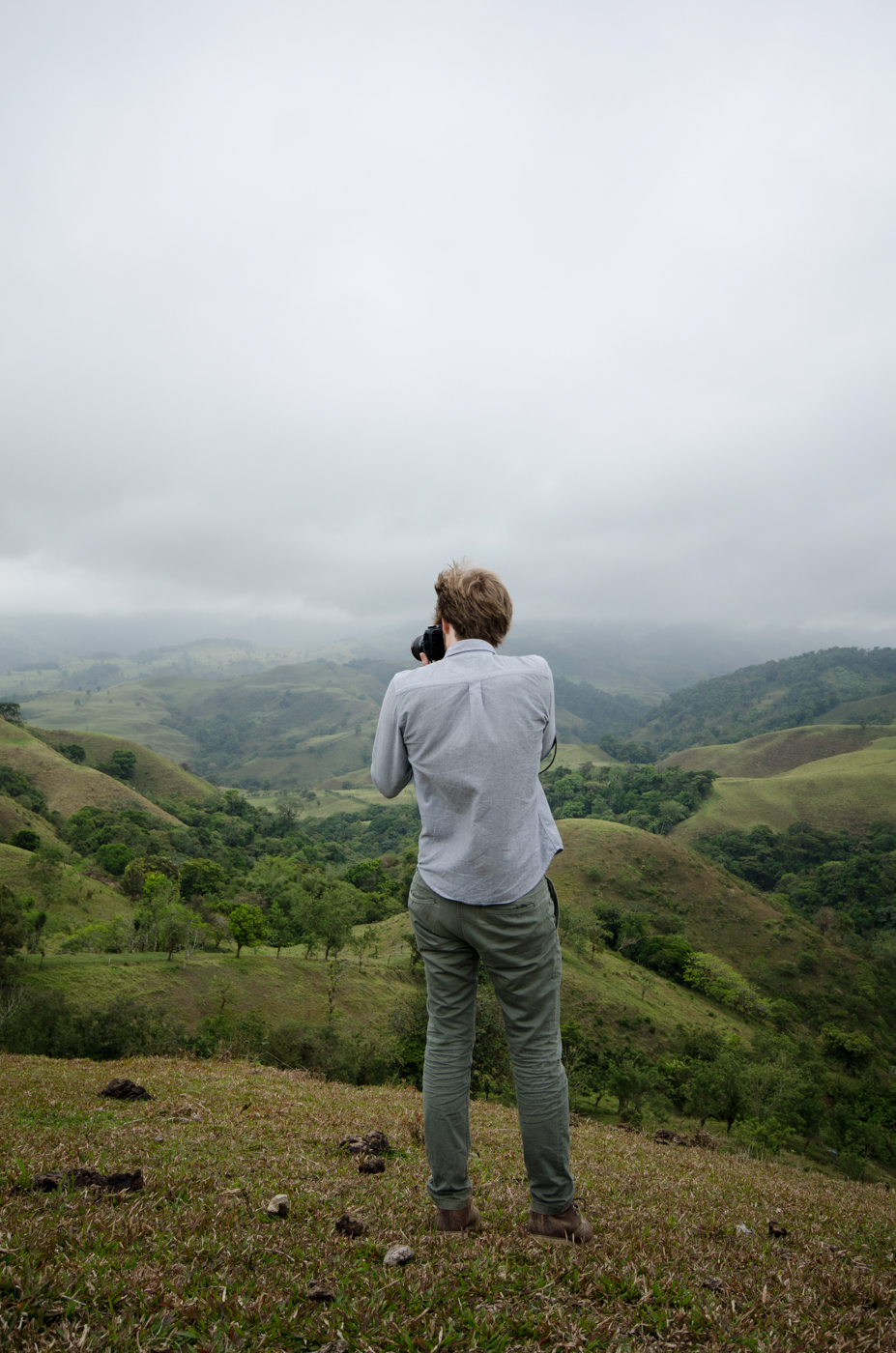 Along the way we watched 500-kilogram leatherback turtles lay eggs at midnight on a humid beach and cruised the canals of Tortuguero National Park, woke up at dawn to howler monkeys marking their territory in our rainforest lodge, went white water rafting and slept in tents in the forest at Saraquipi, swam in a spectacular waterfall at La Fortuna, drank Pina Coladas in hot springs warmer than bath water under the smoking hulk of Arenal volcano, downed moonshine rum on a sugar cane plantation, hiked into the clouds at Santa Elena Cloud Forest Reserve, sipped coconuts on perfect beaches, cruised with dolphins on a catamaran in Manuel Antonio Marine Reserve and snorkelled at sunset in the Pacific, sustained by a diet of fruit, fried sweet plantains with just about everything, rice and beans, beans and rice (two distinctly different dishes), Costa Rican beer and coffee and chocolate ground out of freshly-roasted cacao beans.
If this sounds like a lot, it was. After only a few days, when we'd crammed in beaches, forests, mountains and volcanoes we felt like we'd been travelling for months. We went from one high to another: I thought that canyoneering (abseiling, jumping in rock pools and scrambling down through a forested gorge) was my favourite activity, until we zip lined for kilometres and Tarzan swung (terrifying but wonderful) our way through Monteverde Cloud Forest.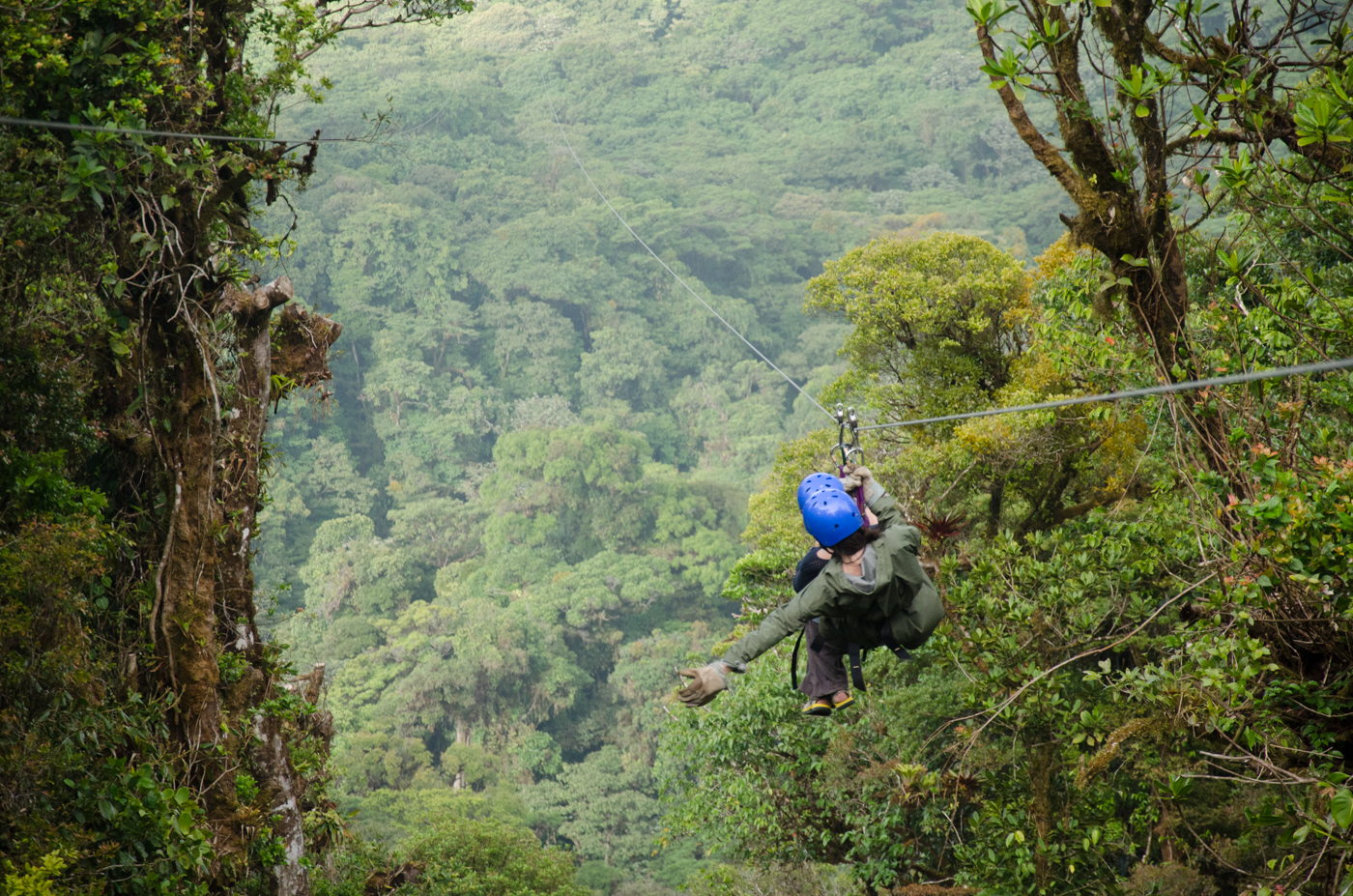 Costa Ricans are undoubtedly some of the most friendly, laid back people I've ever come across. The country is ranked one of the happiest in the world and it's pretty easy to see why: the weather is great, the landscapes are beautiful and the "Pura Vida" motto that everyone lives by is all about having the best life possible.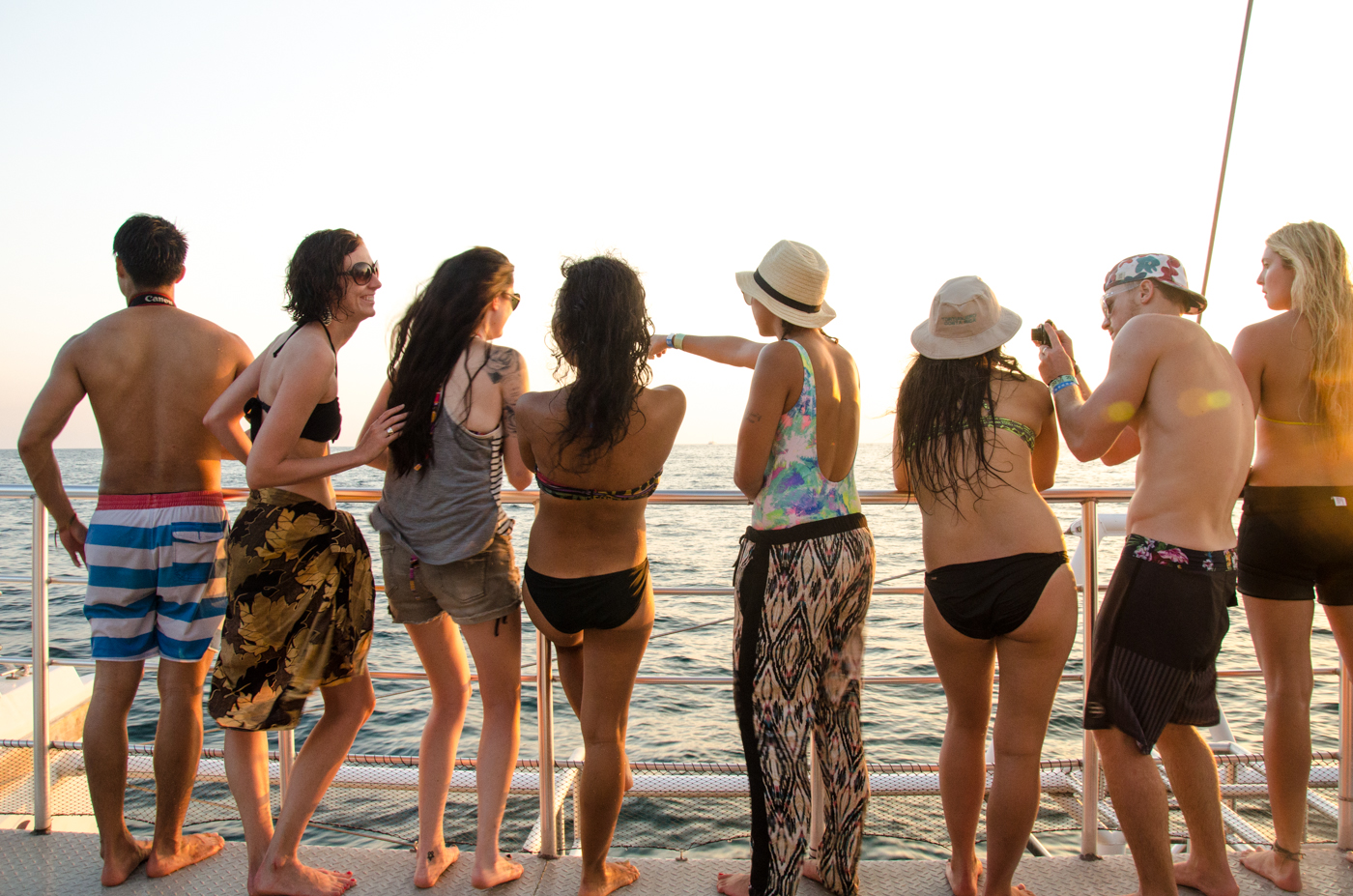 But what I loved most about Costa Ricans was their commitment to conservation and preservation of the environment. There are recycling bins everywhere and water coolers in hotels (to encourage people not to buy plastic water bottles). A third of the country is protected, so wherever you are in the country, you're not far from a forest or national reserve. This means that Costa Rica is spectacularly rich in wildlife and birds (its 900 species are more than the US and Canada combined). We spotted sloths hanging out in trees next to a roadside restaurant, curious raccoons, caimans and crocodiles, tiny, brightly-coloured poison dart frogs, and the most beautiful birds I've ever seen: the magnificent green-and-red resplendent quetzal, scarlet macaws and jewel-coloured hummingbirds which you can get so close to that their small, furiously-fast beating wings fan your face.
Costa Rica is said to have the highest biodiversity of any country in the world: with just 0.3% of the planet's landmass, it is home to 4% of the world's species. That on its own is worth making the trip to the Central American country, but throw in its life-loving people and amazing diversity of adventures and activities and you can see why this particular traveller was smitten.
I was a guest of Contiki on their Costa Rica Unplugged tour. To find out more about this awesome trip, check out the itinerary here. 
Check out the video of the trip and find out more about the sea turtle conservation project we visited in Costa Rica.
Google+