After a year of studying in London (with not much adventurous travel) I was in need of a break. I wanted to go somewhere in Europe which would offer a bit of autumn sunshine,  a bit of ocean swimming, mountains, some good food, no Internet connection and a lot of hiking. Without knowing that much about Montenegro, I decided that the tiny Balkan nation (one of the newest countries in the world) was calling to me. I'd seen alluring photos of its magnificent coastline and wild mountains, and the fact that it is half the size of Wales seemed to mean that doing a road trip would entail being out of the car more than being in it.
I also felt like travelling a bit differently to my usual accommodation choices of Airbnb, guesthouses and backpackers, and decided to stay in family-run farms for the chance to meet Montenegrins and eat local food, rather than tourist fare.
Travelling with my husband, Joe, I started off the trip to Montenegro by flying to Dubrovnik in Croatia, briefly braving the cruise ship hordes in this beautiful but overpriced and overcrowded city, before picking up a rental car and driving 17km to the Montenegro border for a quick crossing and then a slow, scenic drive around the Bay of Kotor, where the views got more spectacular around every bend in the winding road as we drove through seaside villages of old stone shuttered houses and terracotta roofs and gardens full of pomegranate trees heavy with fruit. With a semicircle of steep forested mountains tumbling down to crystal clear, navy-blue sea, the bay feels a bit like a fjord or an Italian lake. I kept on thinking we were in Italy (this part of Montenegro was ruled by Venice for four centuries), but the signs in Cyrillic brought me back to the Balkans.
We ate lunch of linguine and garlicky mussels at Perast, a tiny hamlet of churches and old Venetian palazzos perched on the edge of the water, and then took a boat out to the picturesque church on Our-lady-of-the-rock Island, which was artificially created in 1452 after a stone with an image of Madonna was found. Driving on further around the bay, we stopped off at the town of Kotor, which my guidebook described as a mini-Dubrovnik. Kotor is just as photogenic as Dubrovnik, with old Venetian palaces and beautiful churches, lovely little squares and marble alleys and crumbling 9th century stone walls snaking up the steep mountainside, but it was just as tourist-packed as Dubrovnik.
We were glad we were staying on the rustic and (as yet) largely undeveloped Lustica Peninsula, which was far enough away from Kotor to completely escape the cruise ship tour groups. Our home for our first few days in Montenegro was the Old Mill, a family farm with the most incredible sweeping views over olive groves to the curving bay beyond. Our host, Jovan Stojkovic, who lives with his parents and grandmother, explained that the farm has been in his family for four hundred years, producing olives, wine, goat's cheese, fruit and rakija – the Montenegrin brandy that we were soon to discover is the equivalent of tea in England.
Sitting under vines heavy with grapes and kiwi fruit, we had our first of many farm-to-table experiences in Montenegro over the next few days, as we drank homemade red wine and cherry rakija and devoured feasts of eggs from their chickens, veggies – tomatoes, peppers, cucumbers, aubergines, potatoes – from their garden, goat's cheese from their forest-foraging goats and olives and olive oil from their groves. After living in London for a year and feeling quite cut off from seasonal produce, with the year-round availability of fruits and vegetables from around the world, I felt a comforting sense of connecting to a place by eating truly homegrown food, some of which had been in the soil that day.
We spent the next few days exploring the Lustica Peninsula by car, driving on tiny quiet roads past sleepy little villages, cypresses and groves of olive trees so old and gnarled that they looked like twisted kitka bread to get to tucked away beaches, like Zanijice with its curve of pebbles and family vibe, Miriste with a lovely restaurant right over the water, and our favourite, Uvala Veslo, which didn't have a beach (or loungers or restaurants or many people) but instead there were cliffs for jumping off into the turquoise sea. My favourite little village was Rose (pronounced like the wine), a tiny collection of slightly dilapidated old stone villas along a sunny seafront, with just one restaurant, which felt like the kind of place where you'd plan to do a writer's retreat for a few months and then end up spending all your time swimming, napping and drinking wine.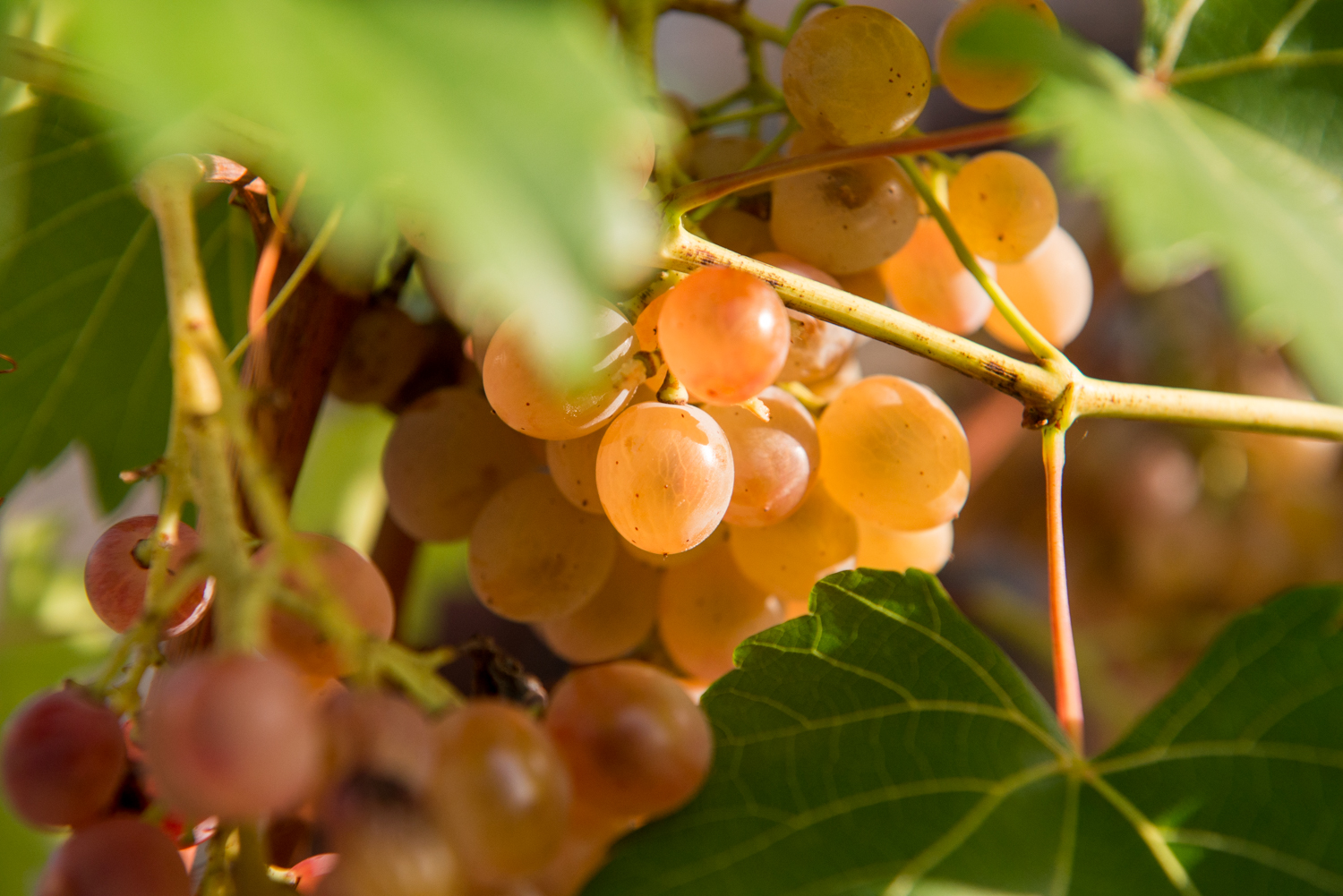 Leaving the Lustica Peninsula behind (and having one last cherry rakija with Jovan as we left), we drove south down the coast, passing through flashy Budva, with its high-rise holiday apartments and casinos and packed beaches, feeling glad that we'd had our Montenegrin coastal stay on the low-key peninsula instead. We stopped for a swim at the lovely Sveti Stefan beach, and had lunch up the hill at Pastrovica Dvori, where we picked grapes off the vines hanging above us, and ate grilled fish and olives and vegetables from their terraced garden. A bit further down the coast we turned inland followed a winding road (Montenegro is all about winding roads – and nerves of steel to battle the drivers who take the corners at considerable speed) up a mountain and down the other side, where it felt like we were miles away from the developed coast, to get to Lake Skadar, the largest lake in the Balkans.
A short way away from the lake and from the surprisingly busy village of Virpazar was our next farmstay, Skadar Lake Đurišić Family Estate. Our host Marko Đurišić welcomed us to his family home, telling us how they'd owned it and grown wine there for the past 500 years. His parents were smoking fish that they'd caught in the lake while Marko showed us around the garden, with its 30-year-old vranac vines (Marko makes his own wine in a vat in the garage), fruit trees and veggie patch – watched over by the sweet honey-coloured dogs Fluffy and Hector.
We had just one day to explore the area. Following a breakfast of priganice (fried fritters) with cheese, cucumber, tomato, ajvar (a piquant red pepper paste), honey and jam, we found a perfect lake beach on Marko's suggestion, and wandered around the atmospheric hamlet of Lekovici, which was partly abandoned during the 1979 earthquake: crumbling buildings overgrown with fig trees, and a few houses left exactly as they were inhabited as the earthquake struck, with crockery still on the table, like a scene from Chernobyl. Marko took us out on an afternoon boat cruise on the vast mountain-fringed lake, navigating us through channels of water lilies and pointing out monasteries (there are over 300 around the lake, one of which is inhabited by just one grumpy monk who hates tourists and only lets you visit if he likes the look of you) and black cormorants. Marko studied politics and was a fount of knowledge about Montenegrin and Balkan history and politics. As we cruised around the lake, he told us about the break up of Yugoslavia, the complexities of determining national identity in the Balkans and the warrior culture of Montenegro, tying history in with stories of his own family. By the time we'd eaten a dinner feast prepared by Marko's mother of smoked trout and marinated carp from the lake, potatoes, grilled aubergine and pepper, ajvar, feta and stewed aubergine and onion and pepper washed down with homemade wine, we felt completely at home and wished we'd planned to stay longer.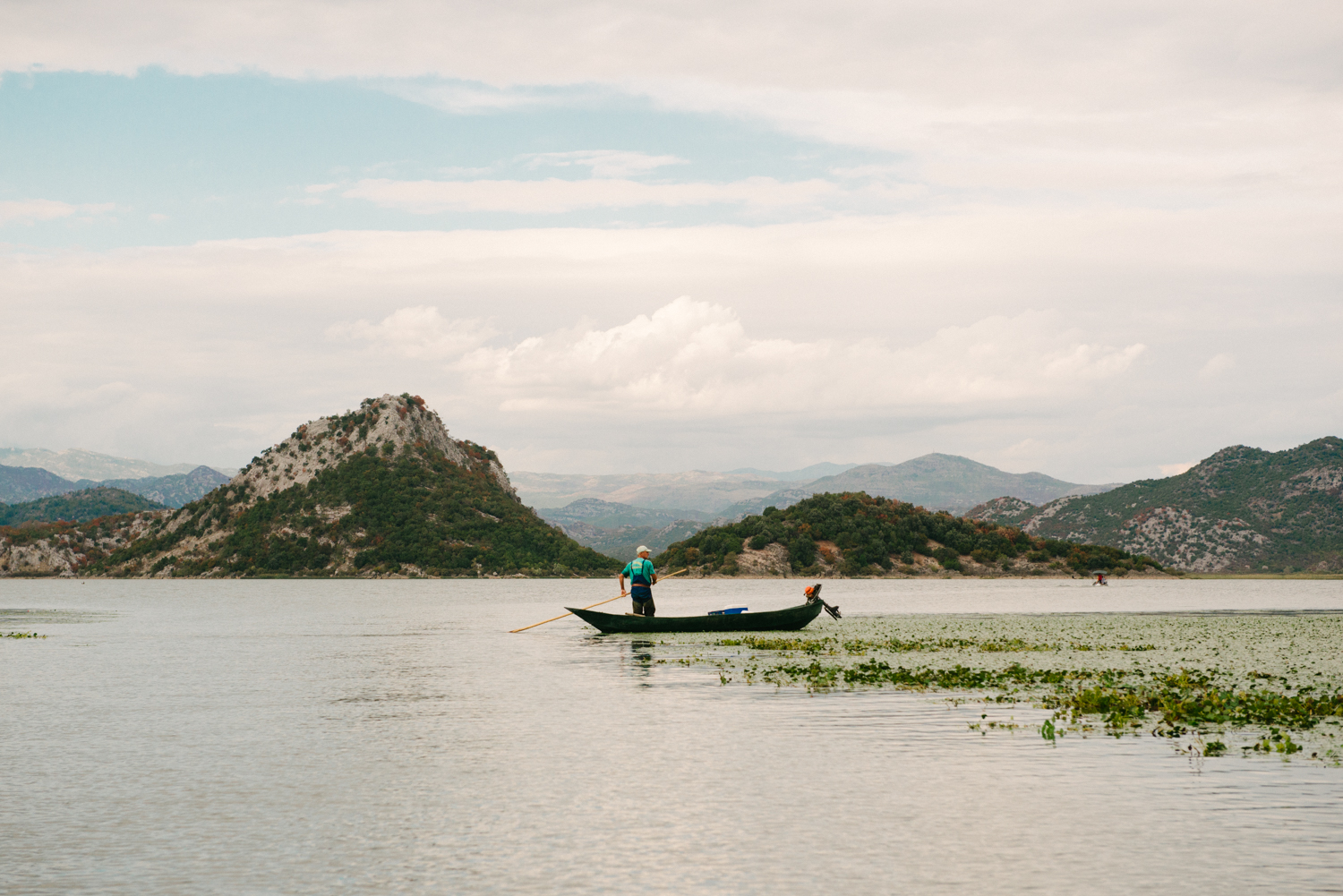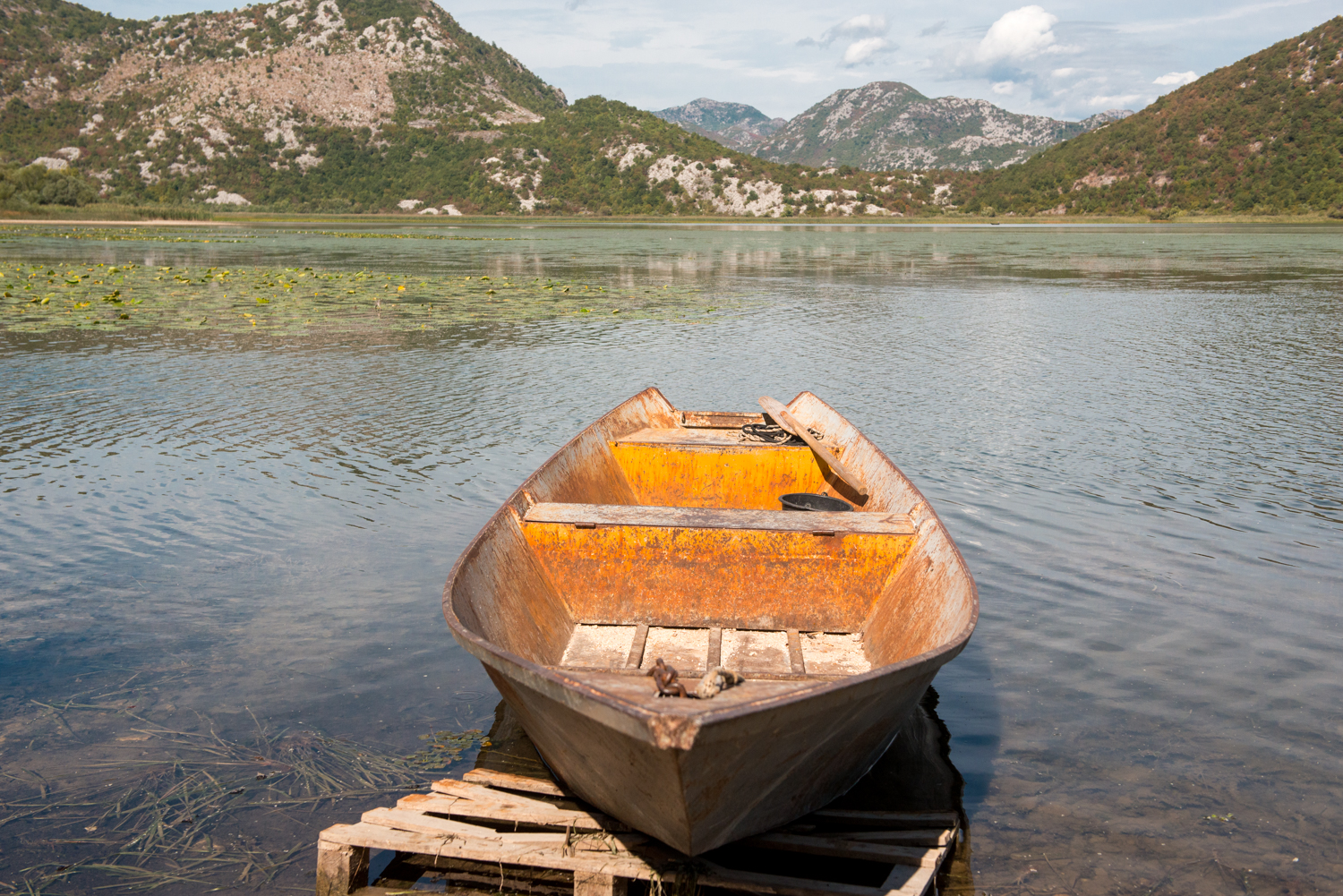 The road beckoned on: our next drive took us through the dramatic Moraca Canyon, with steep cliffs plunging into the river far below, past the Morača Monastery, where the church frescoes were intricate and fascinating, and the smell of honey lingered in the air from the monks' buzzing beehives, and through the capital of Podgorica, which had some startlingly unusual sci-fi like architecture. We stopped off in the alpine-ish town of Kolasin (where I felt tempted to pick the pink apples having heavy on all the trees) to stock up on snacks for our hiking days ahead, and then took a rather white knucklely narrow road that switchbacked its way up and down a mountain – amazing views and beautiful villages where everyone seemed to be chopping wood for the fast approaching winter but some stressful driving trying to get past timber trucks – as we headed northeast towards the Prokletije Mountains, which border Albania and Kosovo.
The Prokletije ("accursed") Mountains are among the least explored mountains in all of Europe, and we certainly felt like we were way off the beaten track after we paid a euro at the national park entrance and then bounced our way up a rocky road through a dense and dark conifer forest to reach our mountain hut – with not another car or tourist in sight. The forest suddenly opened up to a clearing with a two wooden bungalows and two A-frame cabins looking out over a deep valley view. Ermina Redzemetovic was our host at Bungalows in Prokletije, and she greeted us with tea made with fresh herbs and a bowl of Turkish delight. Ermina didn't speak any English and our Montenegrin was non-existent, so over the next three days, with the help of the phrase translation at the back of my guidebook, we found out that Ermina had taken over this disused katun (traditional shepherd's mountain hut) from her husband's family and had turned it into tourist accommodation. While her husband worked in Plav – the village at the foot of the mountain – Ermina stayed up in the 1700-metre-high katun with her two cows and a couple of chickens, making cheese and hosting guests. She told us that many katuns have been abandoned as families have emigrated to places like the US, and this was her project to revive this one, placed in such a scenic spot.
It was mid-September – the end of the season – and a week after we left Ermina would move herself and her animals down the mountain to Plav before the heavy snows started in October. The weather was already turning, and we were a bit underprepared clothing wise for subzero nights and days where the temperature didn't rise much above 5 degrees. In our beanies and jackets, we felt a million miles away from the coast, which was only a few hours' drive, where we'd swum in the sea. The benefit of being in an area that hasn't been developed much for tourism yet – and at the end of the season – was that there was no one else around at all. We were Ermina's only guests for the four days, and on our day hike from the bungalow up to Lake Hrid and beyond, we didn't even hear a distant human sound, let alone see another hiker. It felt like a special treat to be in such a beautiful place, in eerily quiet forests and at the mist-wreathed lake, all on our own, despite having frozen fingers from picking wild blueberries as we hiked.
Our best day was spent on the other side of Prokletije National Park (about an hour's drive away) in the Grebaje Valley. We parked the car just beyond the park entrance and embarked on a two-hour relentlessly uphill hike through a still, silent beech forest and then over a grassy cirque with the old ruins of a katun, up to the peak of Volusnica, where we had a truly staggering view of the Karanfili massif: dramatic jagged peaks still dotted with patches of snow from the previous winter. We couldn't have asked for a better lunch spot to tuck into the pancakes with homemade strawberry jam and cheese that Ermina had made us as a packed lunch. We hiked on, over a narrow ridge covered in wild blueberry bushes, till the top of Taljanka (at 2057m), where we could put one foot in Albania and the other in Montenegro. On this whole day-long hike we only passed two other hikers and three wild horses.
After days of hiking in the cold and misty drizzle, it was a treat to get back to Ermina's delicious hearty cooking: huge hunks of homemade bread, potato stew, bean soup, cheese and squash pita (pie), savoury polenta cake and roasted peppers – all made in her wood-fired oven. We consumed dairy in all its forms, all milked by hand by her and fermented in her bungalow – warm glasses of milk, kaymak (salty clotted cream), kiselo mljeko (a sour milk drink on the verge of becoming yoghurt) and, of course, slabs of her moreish salty white cheese. We quickly learnt the Montenegrin word for "eat up" (uzmi), as Ermina, like a very temporary surrogate mother, seemed to want us to eat enormous quantities of food, probably to fatten us up for the coming winter.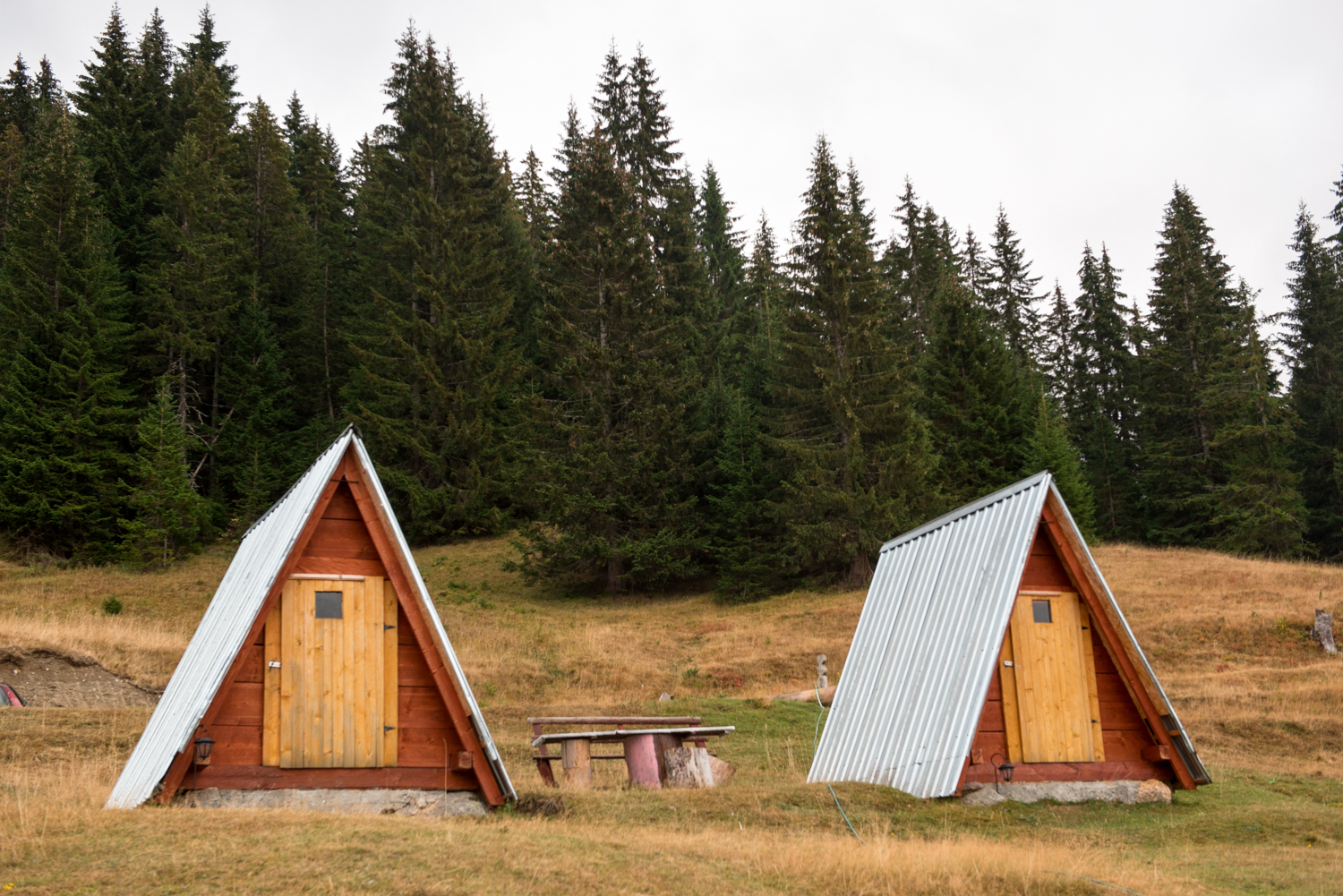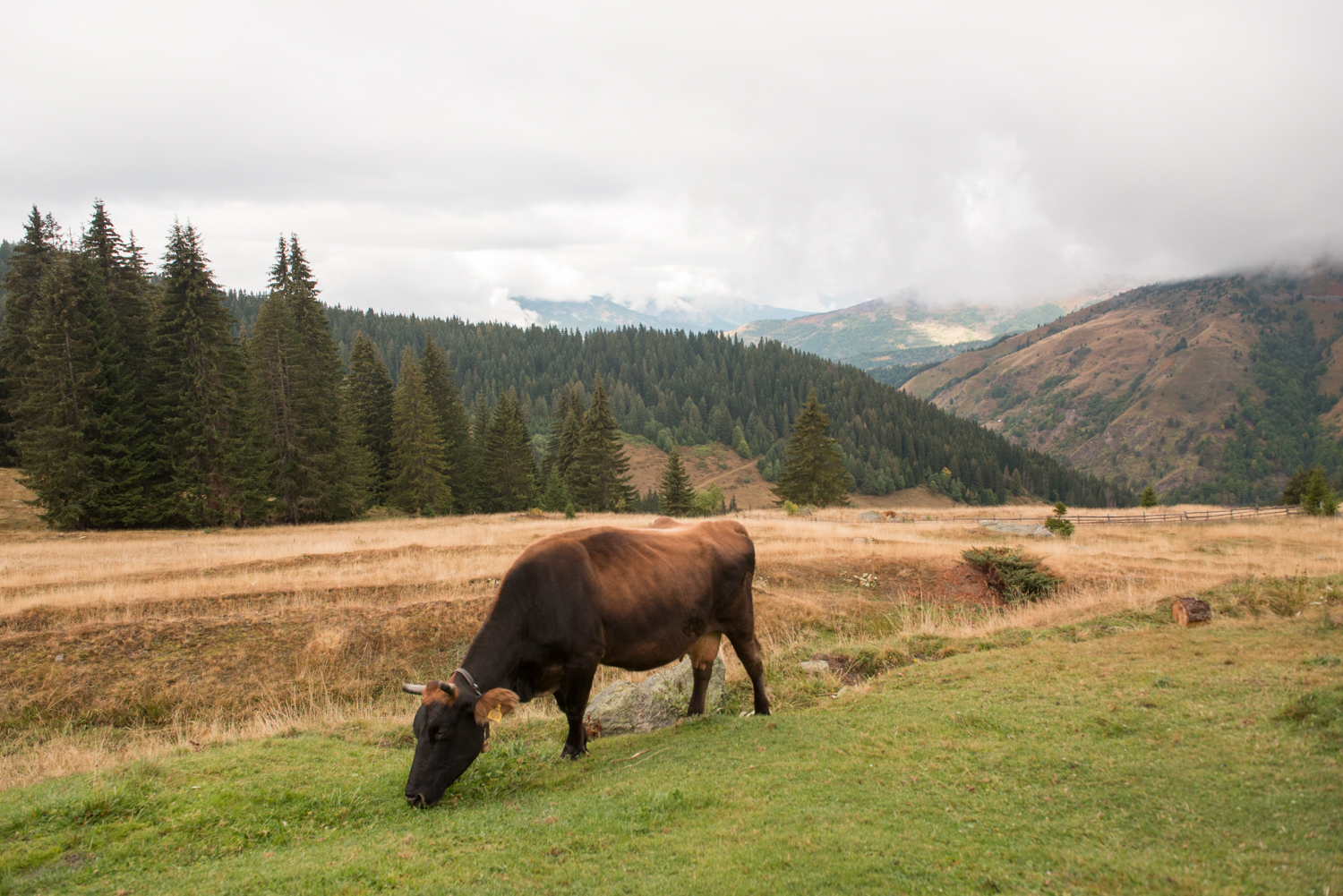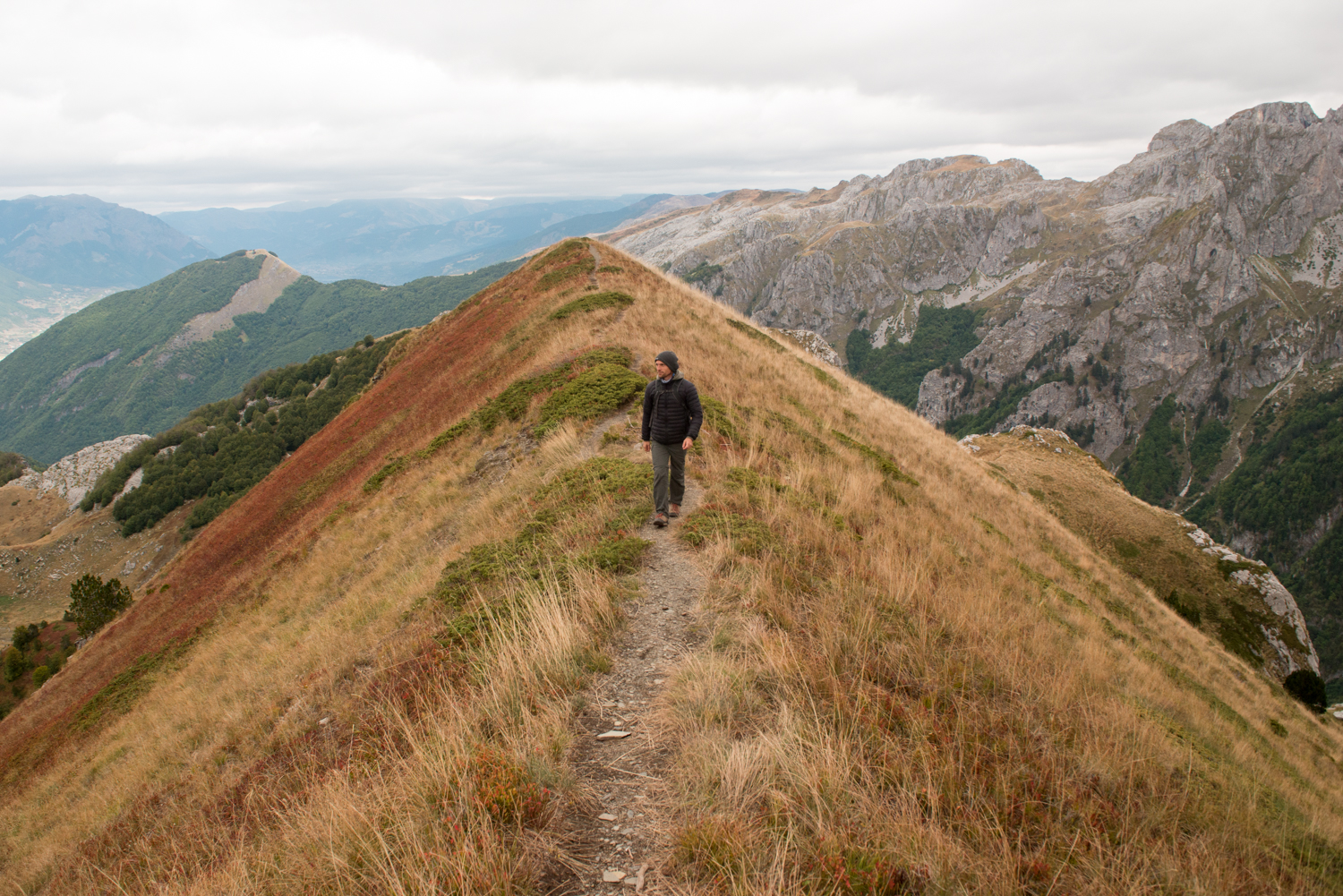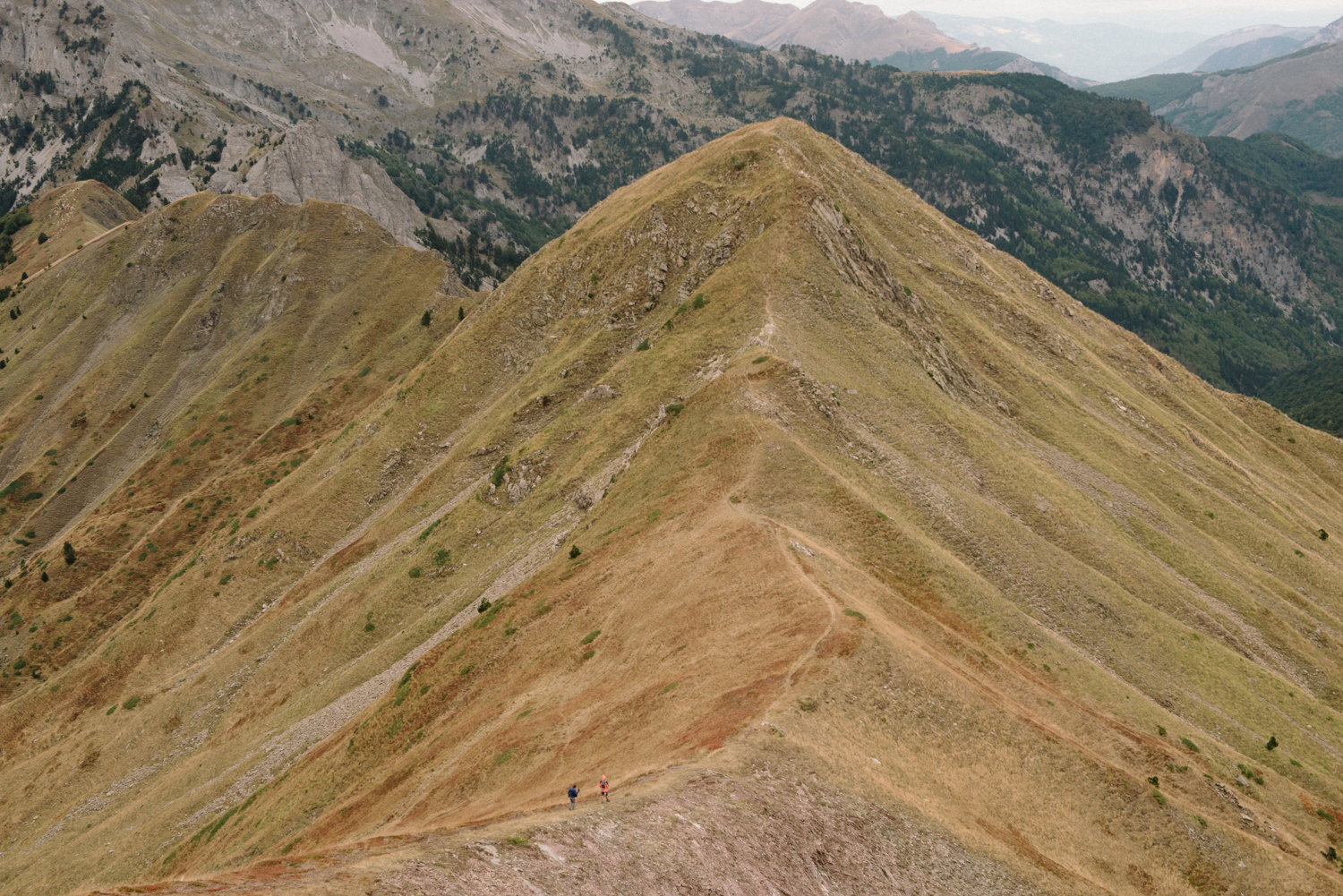 We said our goodbyes to Ermina on a sunny but crisp day, when ground was dusted with frost, and drove down the mountain and northwest to Biogradska Gora National Park, for a short ramble in the forest. Biogradska is one of the last three remaining large virgin forests in Europe (that fact alone is hard for me to get my head around) and many of its trees are over 500 years old. I wished we'd had longer to do some multi-day hikes in this beautiful forest, but that's for the next trip.   
We thought Ermina's place was going to be the most scenic of our farmstays, but the next one was serious competition. Not too far from the national park, we turned off the main road onto a tiny road that led us through the very pretty Lipovo village, whose inhabitants on a Saturday afternoon were all raking, picking and chopping wood. On the edge of the village we found Dulovic Farm, where the whole family was hard at work in their field of vegetables when we arrived. The farm – a large old stone house, a small wooden hut as the kitchen and a barn of cows and pigs – was in an idyllic spot in a green valley surrounded on three sides by soaring forested mountains. Gordana, the family matriarch, after spending the day tending to the farm, managed to whip up a lavish feast for us of home baked bread, bean and vegetable stew, spinach and cheese burek (a dense pie), pickles and a big plate of lisnati cheese, the special cheese made only in that area. Gordana explained via her daughter, who spoke fluent English, that absolutely everything was from their farm, including the pickles. By this point in the trip, after eating so much farm-to-table (or sometimes garden-to-table) food, I was still so impressed with the quality of Montenegrin produce, which by default was organic and seasonal.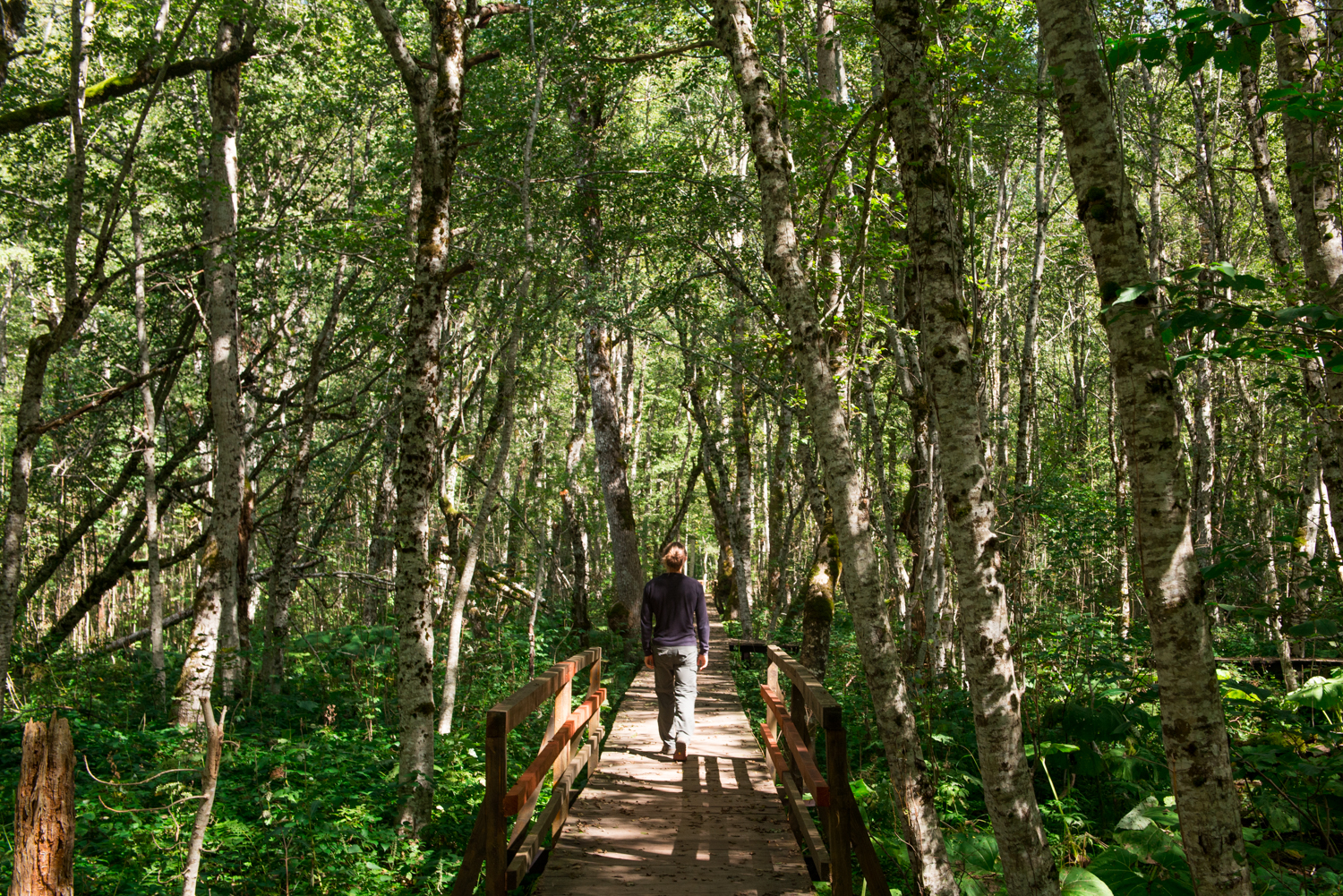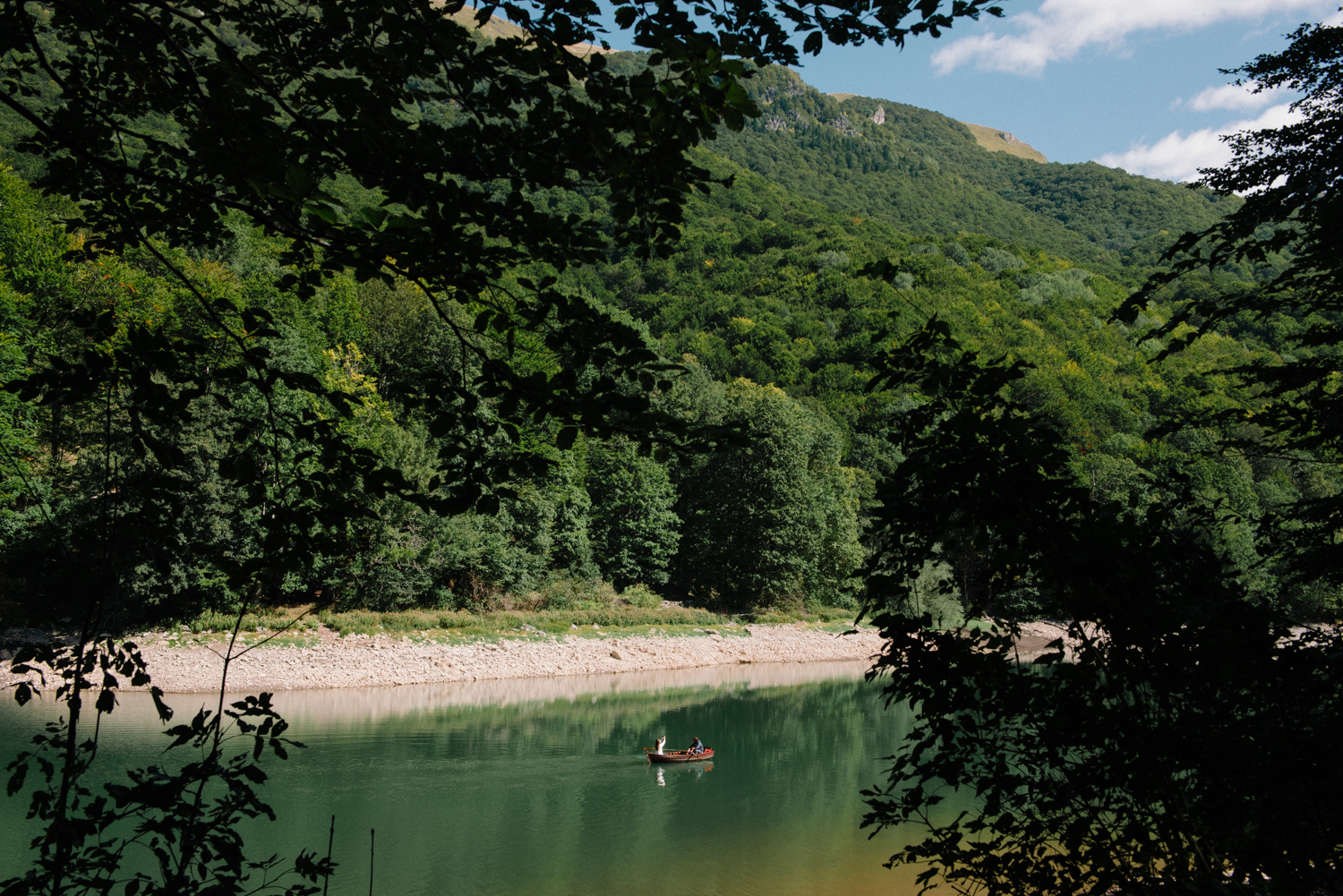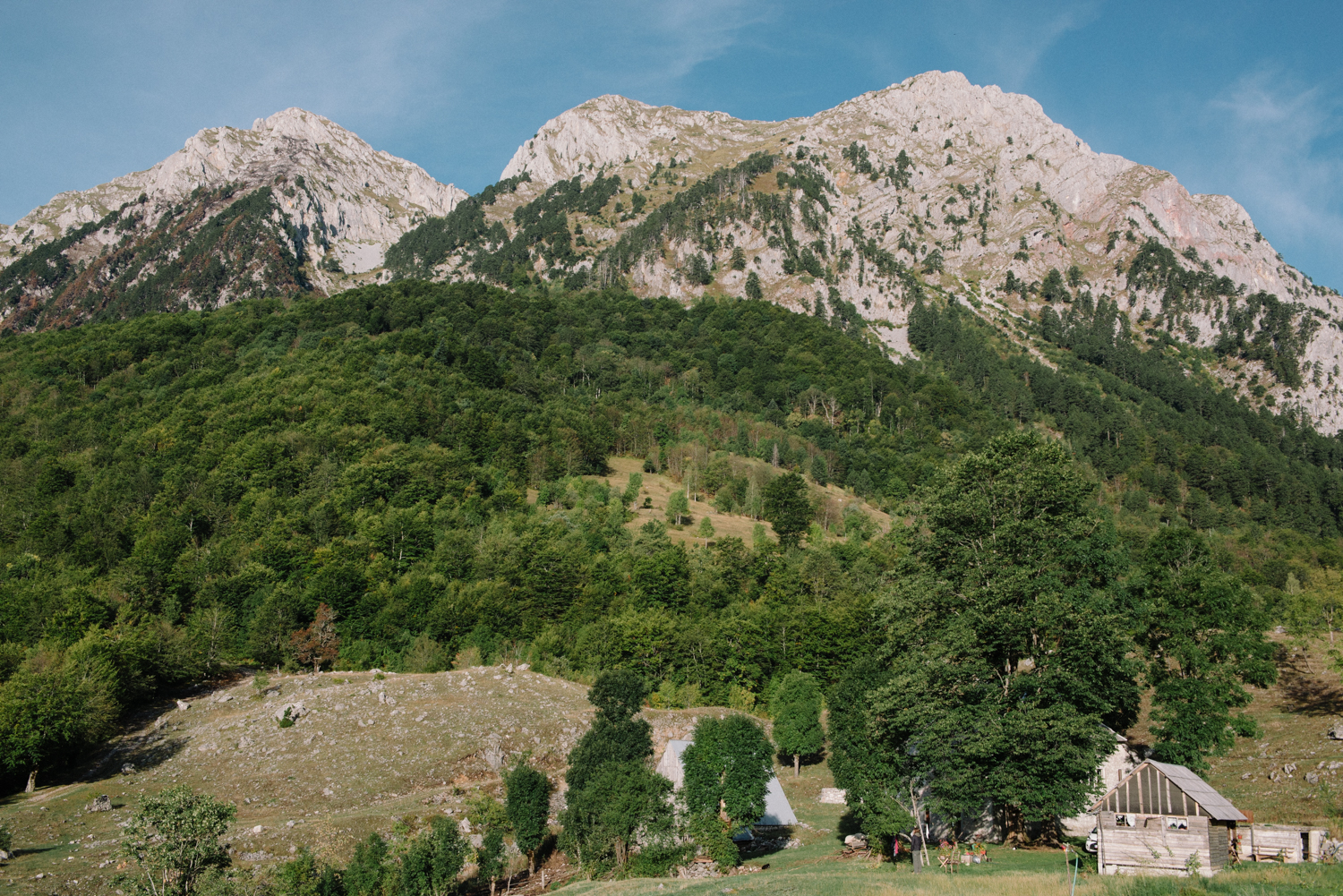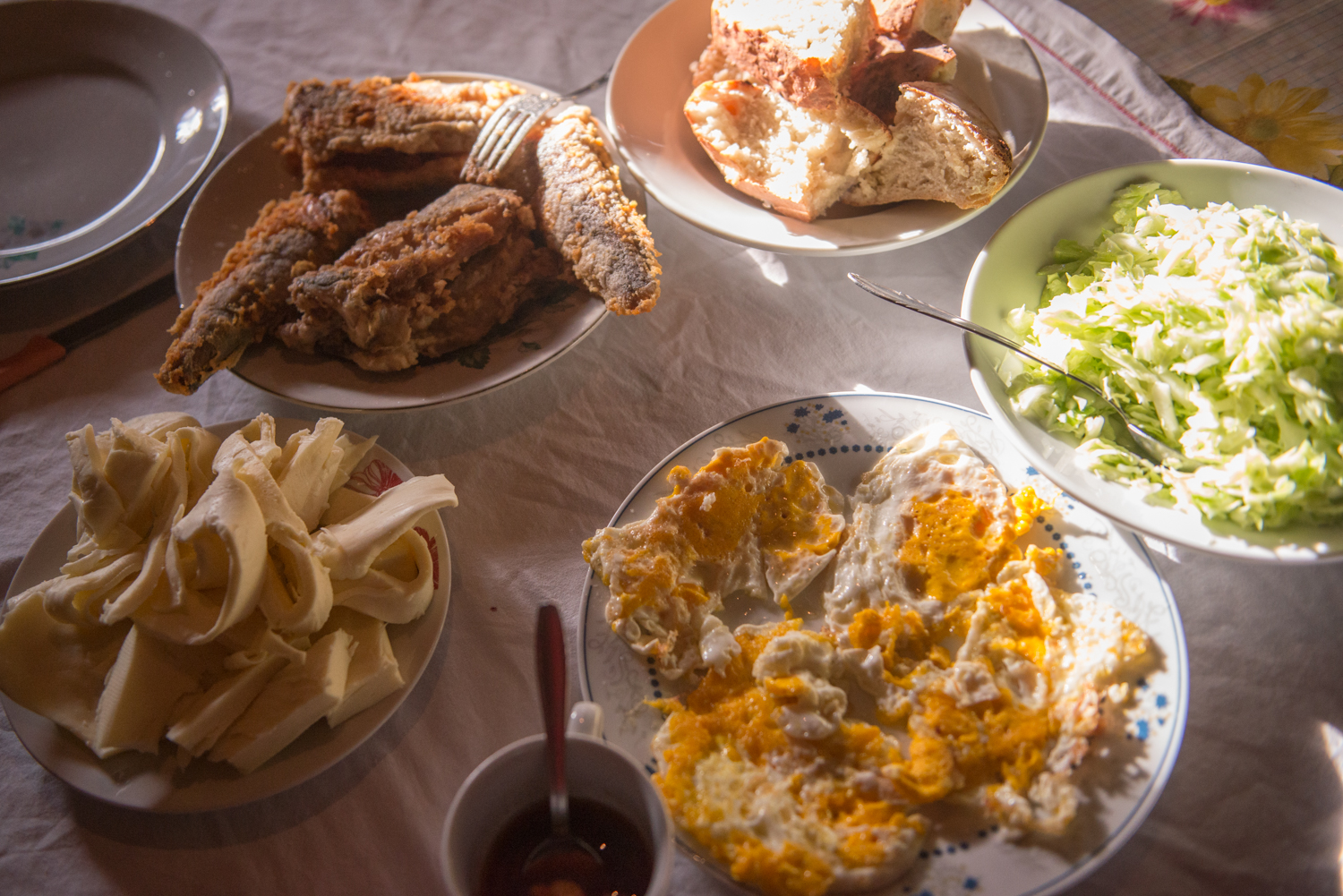 After a breakfast of fried fish, eggs (from the truly free-range chickens running around the farm), bread, beetroot pickles, cabbage salad and lisnati, we were on our way again, this time to our last destination of Durmitor National Park, close to the Bosnian border, which nearly completed our circular journey around Montenegro. Our farmstay home, Above the Mountains Katun, was right inside the national park, in a tiny hamlet surrounded by conifer forests against a backdrop of dramatic mountains. Host Zoran Obradovic welcomed us with sweet fig rakija and coconut cakes made by his octogenarian mother, and with our now growing repertoire of Montenegrin phrases, we were able to talk about life in this beautiful spot.  
We spent a sunny, warm afternoon exploring Crna Jezero (Black Lake), which looked turquoise from some angles, and navy blue-black from other, along with dozens of other tourists, many of whom visit Durmitor on a day trip in a coach from the coast. It felt a bit overwhelming to be surrounded by selfie-snapping tourists after several days of quiet hiking and we were glad to head out on a proper hike the next day, even though the ominous clouds promised rain. We started from the car park for the Black Lake and headed up the mountain, passing glimpses of the lake's jewel-like blue through the trees as we huffed up the incline through a conifer forest. The dramatic views came past the tree line, when we walked through a gully to reach a valley with a lonely hiking hut surrounded by soaring mountains on all sides. It wasn't an easy hike up to the ledena pecina (ice cave), tucked away after a mountain scramble, but things were made a lot worse by the rain which suddenly started and then didn't stop for the rest of our three-hour return hike. Sodden and frozen we returned home, to Zoran and his mother fussing over us to make us tea and cake and then warm us up with fried trout caught in the nearby Tara Canyon, cheese pita, vegetable soup, stewed potatoes, and cabbage salad – all from the garden – all washed down with several glasses of rakija.
After dinner, sitting in the warm kitchen with Zoran and his mother and watching the local news, getting political commentary from Zoran (which involved a lot of charades-like explanations), I realised how special our Montenegro trip had been because of the incredibly welcoming and generous families we'd stayed with. We'd eaten the most delicious food wherever we'd been (and been inspired to grow our food one day when we live somewhere a bit more spacious than London), slept in cosy wooden cabins and old farmhouses in off-the-beaten-track places where you'd never find hotels and felt like we'd had more of a cultural immersion than in many places we've travelled to around the world. Instead of just learning the words for please and thank you, we'd learned Montenegrin phrases and untouristy vocabulary, and from English-speaking hosts like Marko, we'd got an education in Montenegrin history and politics. For half of our trip, we'd also had no Internet connectivity, giving us a rare chance to properly disconnect from the world (and work) and focus on exactly where we were, in the rugged mountains and valleys of beautiful Montenegro.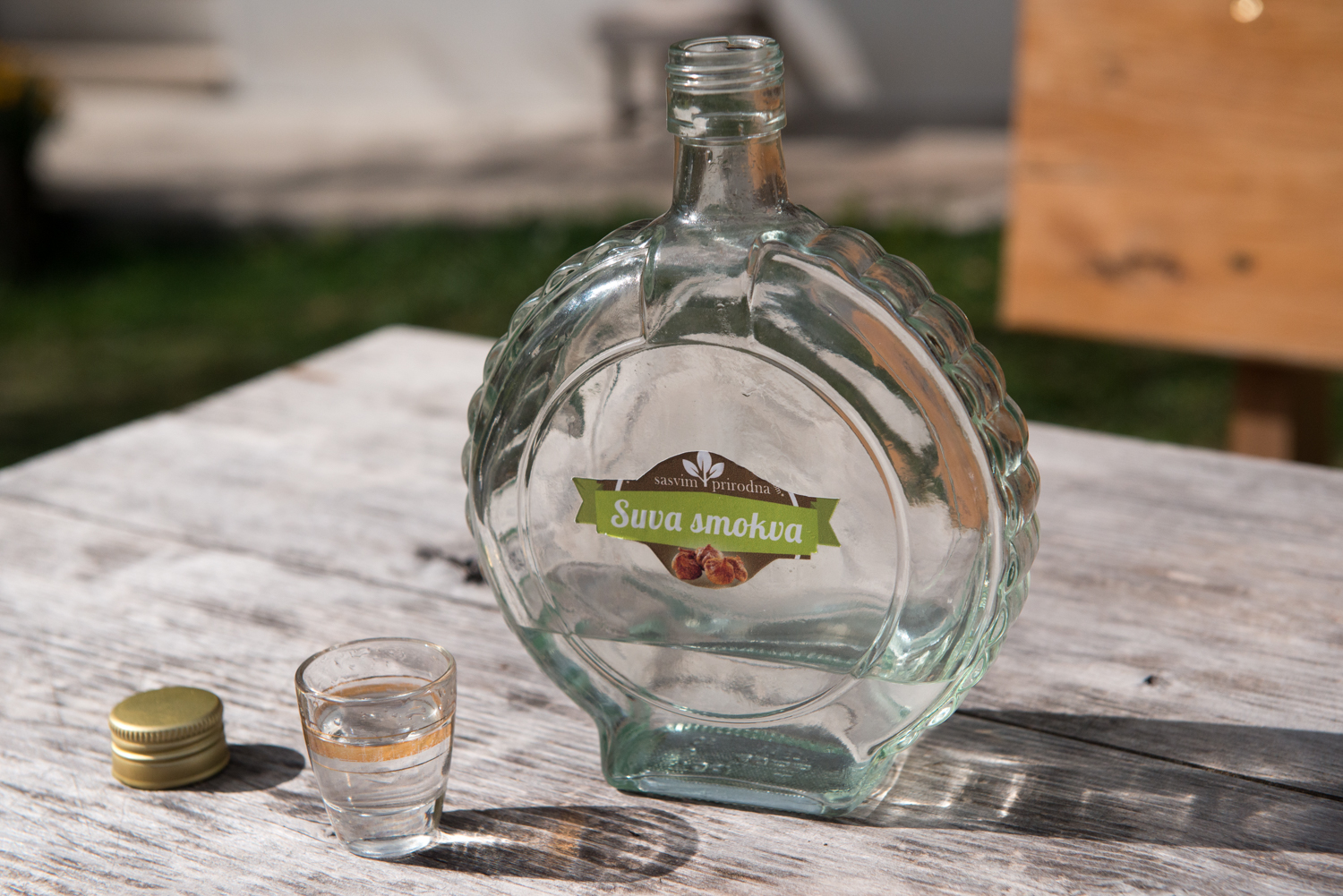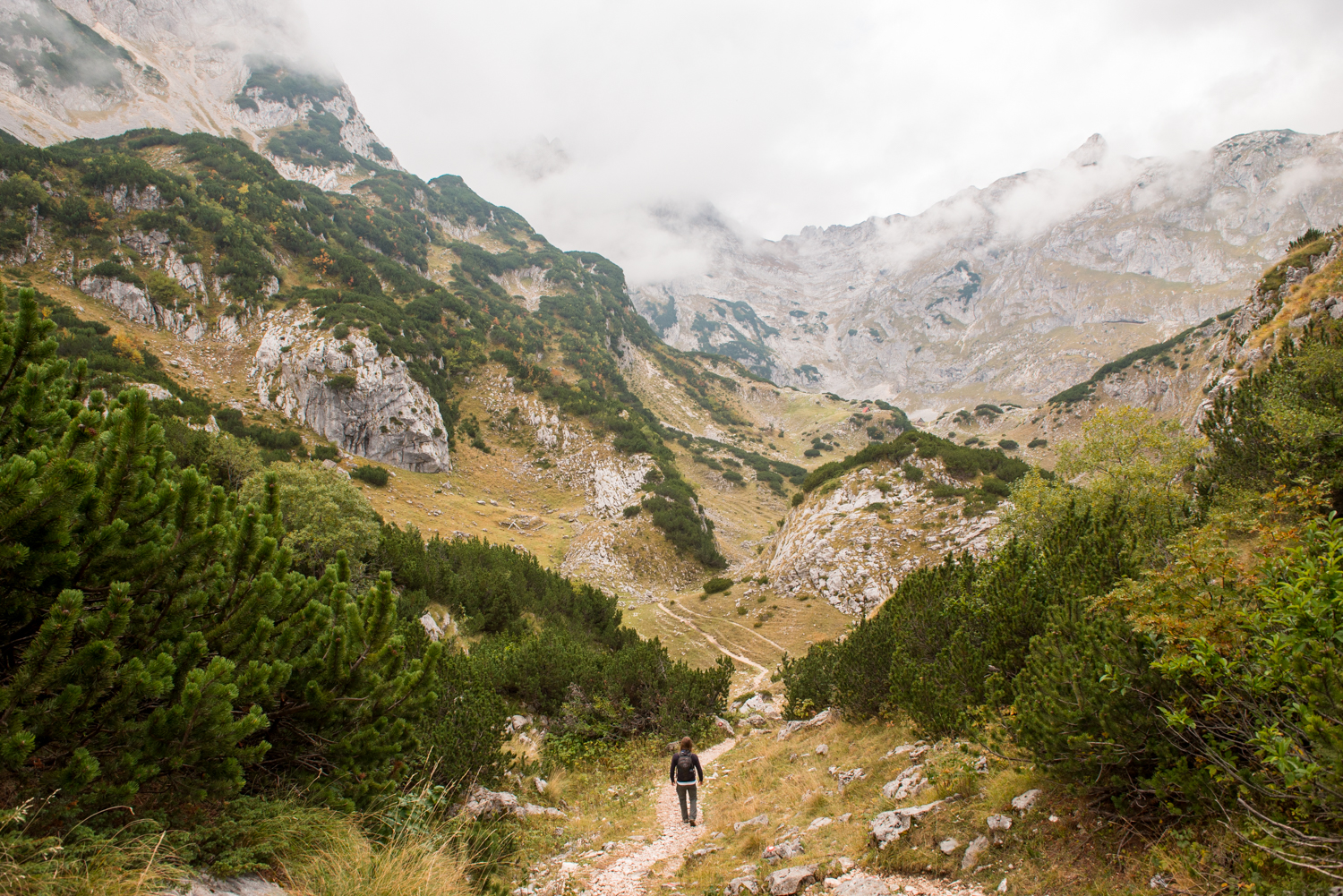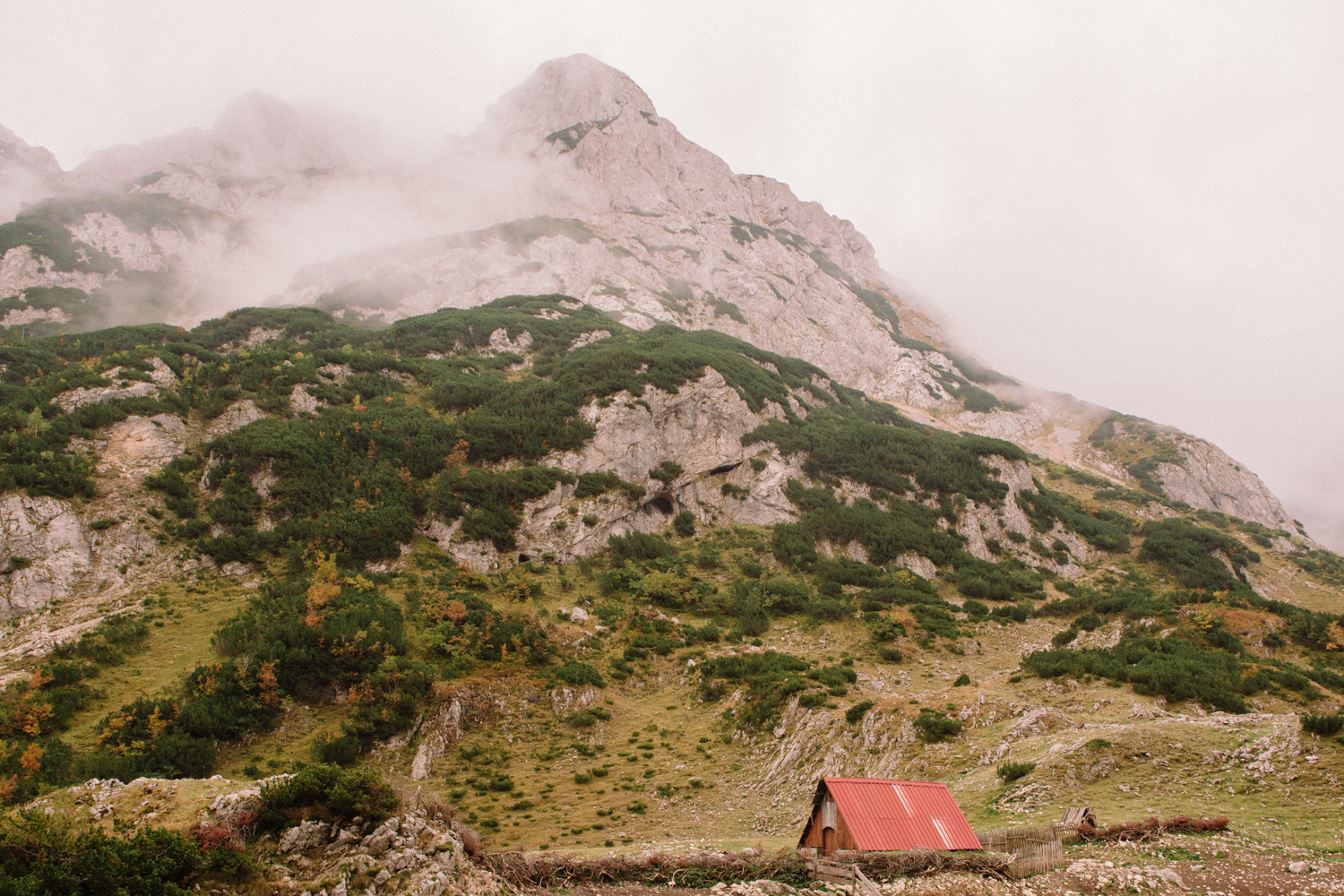 Finding farmstays in Montenegro
We booked our trip entirely through Meanderbug, a website that offers a range of farmstays across Montenegro, from eco-camping to mountain cabins, all at really affordable prices. All of the farmstays we stayed at offered meals (including packed lunches for hiking days) as part of the price or as an extra, and we're glad we opted for meals with the families, because the food we ate was a big highlight of the trip. While half the hosts that we stayed with didn't speak English, we didn't have any communication problems as all of our meals were pre-booked and already paid for, and when we booked we left a note for hosts to tell them that we don't eat meat (and we ended up being very well catered for with vegetarian and fish options). I loved the fact that by staying on farms, our tourist money went towards helping to support families' incomes rather than going to big hotel companies (which there are a lot of along the Montenegrin coast). 
Google+