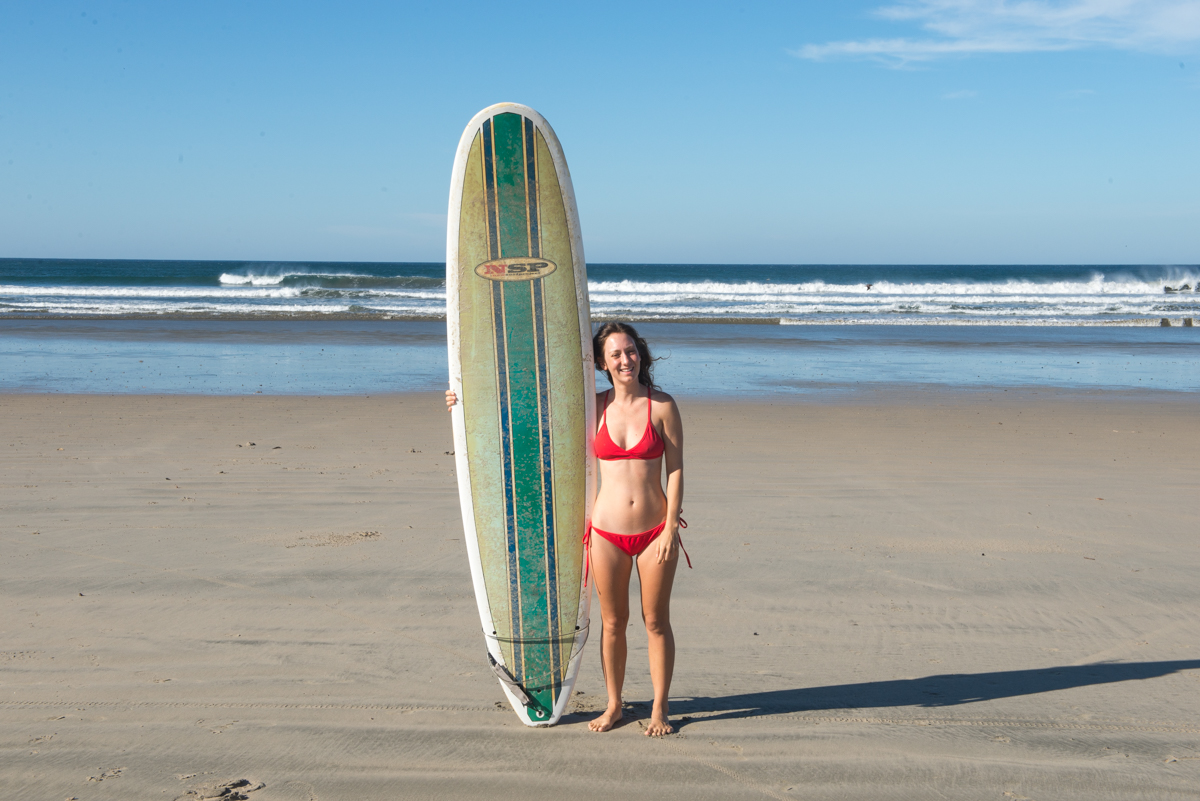 My big pledge this year is to be braver and make myself do the things that scare me most. My first challenge was set to be surfing. I was in Nosara for almost two months, a great surf spot in Costa Rica with a beach break and warm water (read more about how much I love Nosara here), so there wasn't ever going to be a better time to try. With the help of Lumia sponsoring my surf board rental and surf lessons, I made the proverbial plunge.
Learning to surf was definitely not easy. It started out well though – riding the whitewash of tiny waves that my surf instructor, Gerald, pushed me onto (no paddling required). I stood up on my second try and was thrilled. Wasn't standing up the hardest part of surfing? I thanked years of yoga for my balancing ability, and assumed it took much longer for most people to get on two feet on their surf board.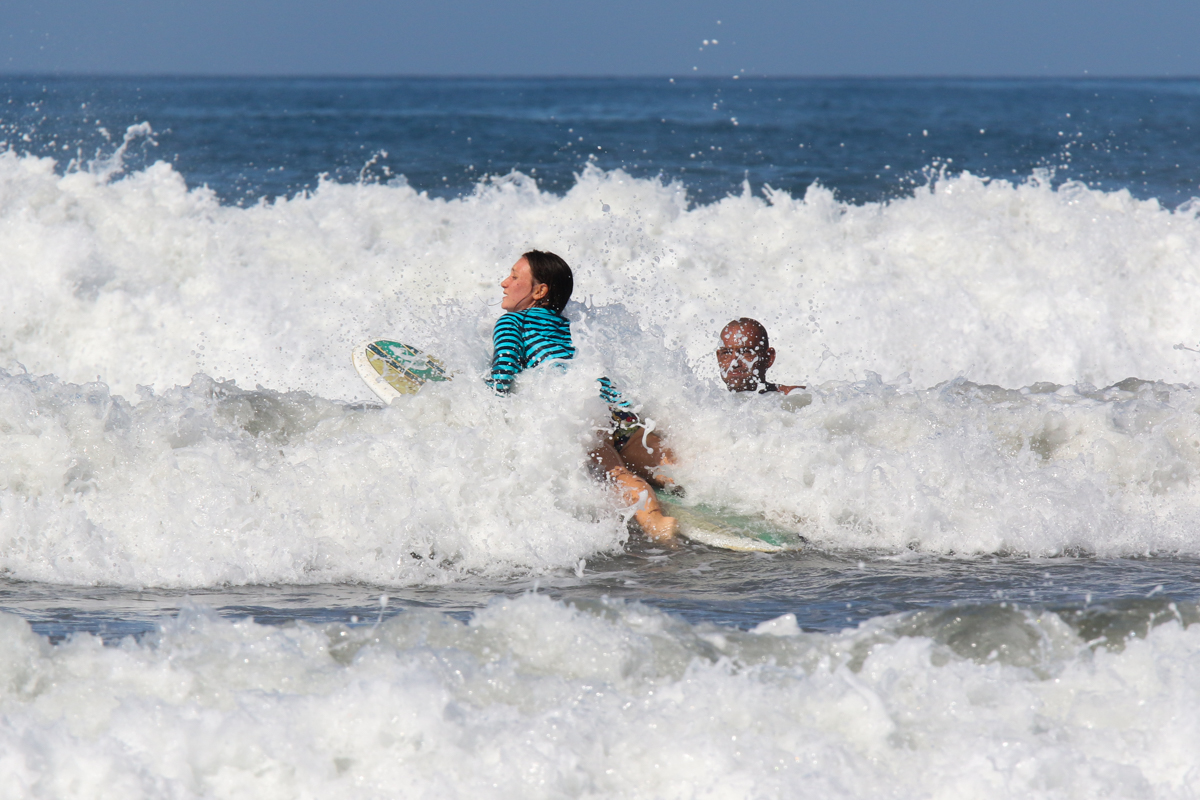 I was wrong. Gerald said that almost every student he'd ever taught had stood up on their first lesson. It turned out that standing up was actually the easiest part of surfing. After a few lessons of practising on ankle-high waves next to four year olds, and feeling good about my board riding skills, we moved into deeper water and bigger waves, just as the "magic swell" that all the surfers had been looking forward to for a week arrived.
To get into real surfer mode, I downloaded a surf app, Surfline, for reports on surf height, wind speed, tides, and sunrise and sunset times – to maximise surfing time, of course.
Now I was paddling into waves and trying to catch my own rides, getting smashed in the face and bashed by the board, tumbling in the whitewash and inhaling and swallowing water, clearing out my sinuses each session. My legs started looking like blueberry muffins, with black and purple bruises marking my skin. On one particularly windy afternoon, my board flew up hit me hard on the head twice when I bailed. My arms, shoulders and back ached from paddling. Every day I woke up with different deep pains in my body. Surfing had became exponentially more challenging.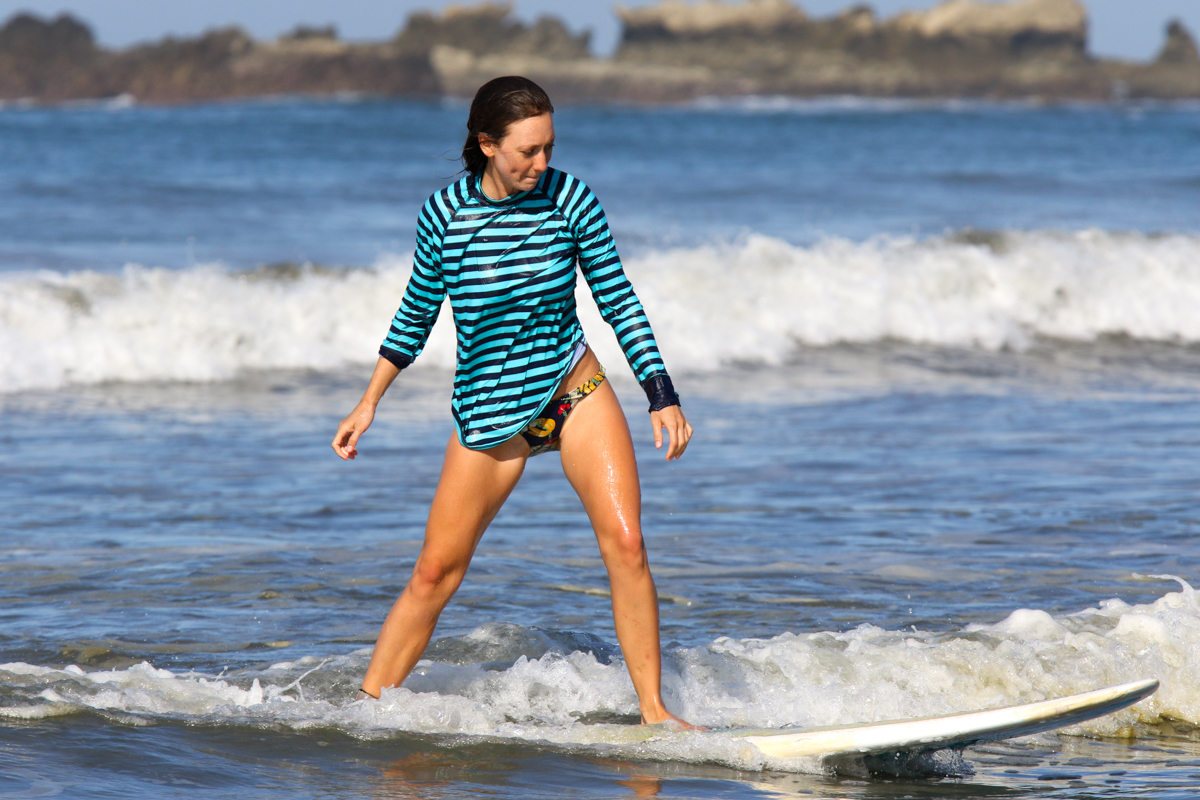 I spent a good part of my lessons feeling scared of catching what I perceived as monstrously big waves, ignoring Gerald when he encouraged me to paddle and let go of my fear. It was at this stage that I realised how surfing is a metaphor for life (some people actually say the way you surf is the way you live life).
I started to learn that surfing is about letting go and being ok with knowing that you don't really have control over what waves come your way (just like life). It's about being humble and knowing that you are tiny and insignificant and that nature is much bigger and stronger than you are and that you can never beat it (something we all forget a lot of the time). Surfing is about having the determination to keep paddling out when things aren't going your way (a really important lesson in how to deal with failure).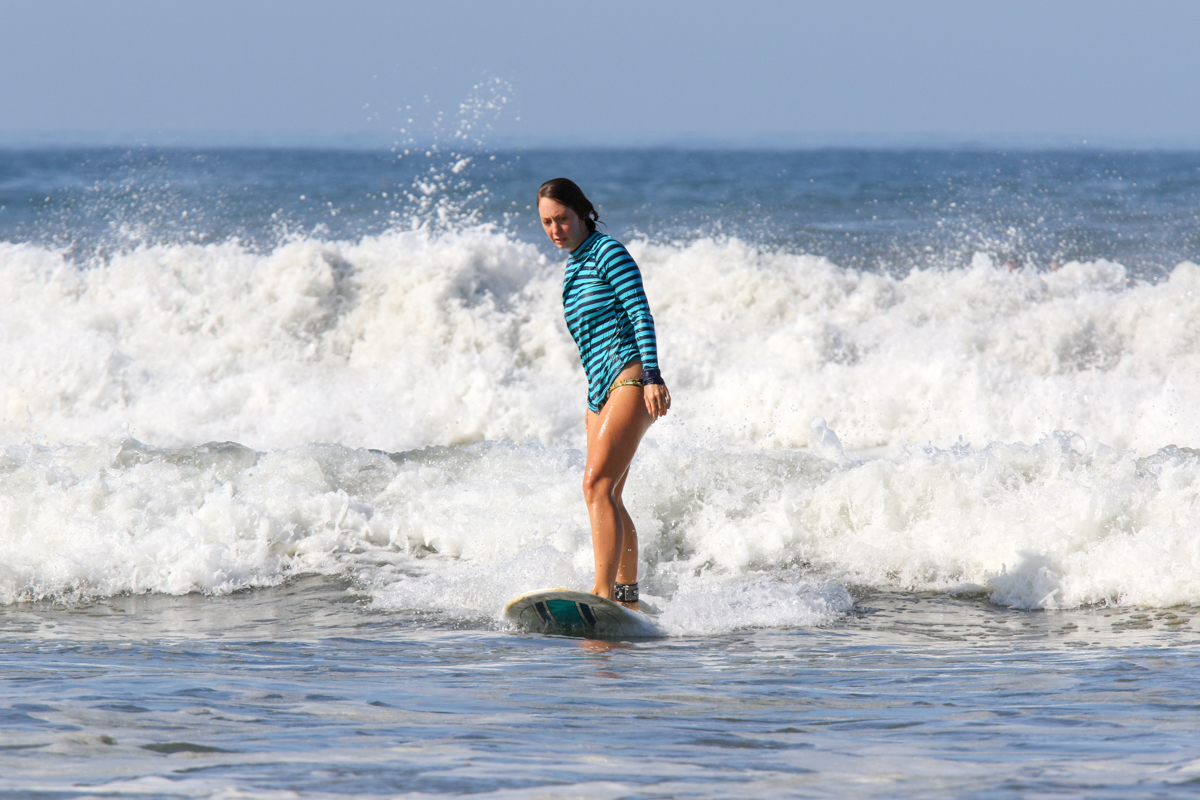 In between catching waves, Gerald and I would philosophise about the connections between surfing and life, and discuss how to Become One with the ocean. Living in a backpackers in a surf town meant that a lot of my discussions out of the water were about surfing, too. Almost everyone in the hostel was a surfer or trying to learn how to surf, so over meals in the communal kitchen and beers on the beach at sunset we'd all have long chats about every possible aspect of surfing – particularly getting over fears. Sometimes I felt like I was actually in a surfer movie. Everyone had their own take on surfing philosophy.
My favourite surfer of them all was Charlie. I was surfing by myself one windy morning, near the end of my stay in Nosara, and was not doing very well. Out of nowhere, a deeply tanned, heavily tattooed man swam over to me and started giving me a few pointers. He then started pushing me through the waves to help me paddle out. He then ended up giving me a full-on lesson for an hour and a half and somehow said all the right things to help get me over my fear. He coached me into catching the biggest waves I'd ever caught before, which felt euphorically amazing. I tried to offer payment to Charlie (who turned out to be Californian, and has surfed for 34 out of his 44 years) for my impromptu lesson, but he said that he doesn't think anyone should make money off the ocean – that sharing surfing is sharing this beautiful gift that we all have. We ended up having a long chat about surfing, living close to nature, trying to have a positive impact on the environment around you and the Meaning of Life, which convinced me even more that this world of the surfer is one I'd like to join forever.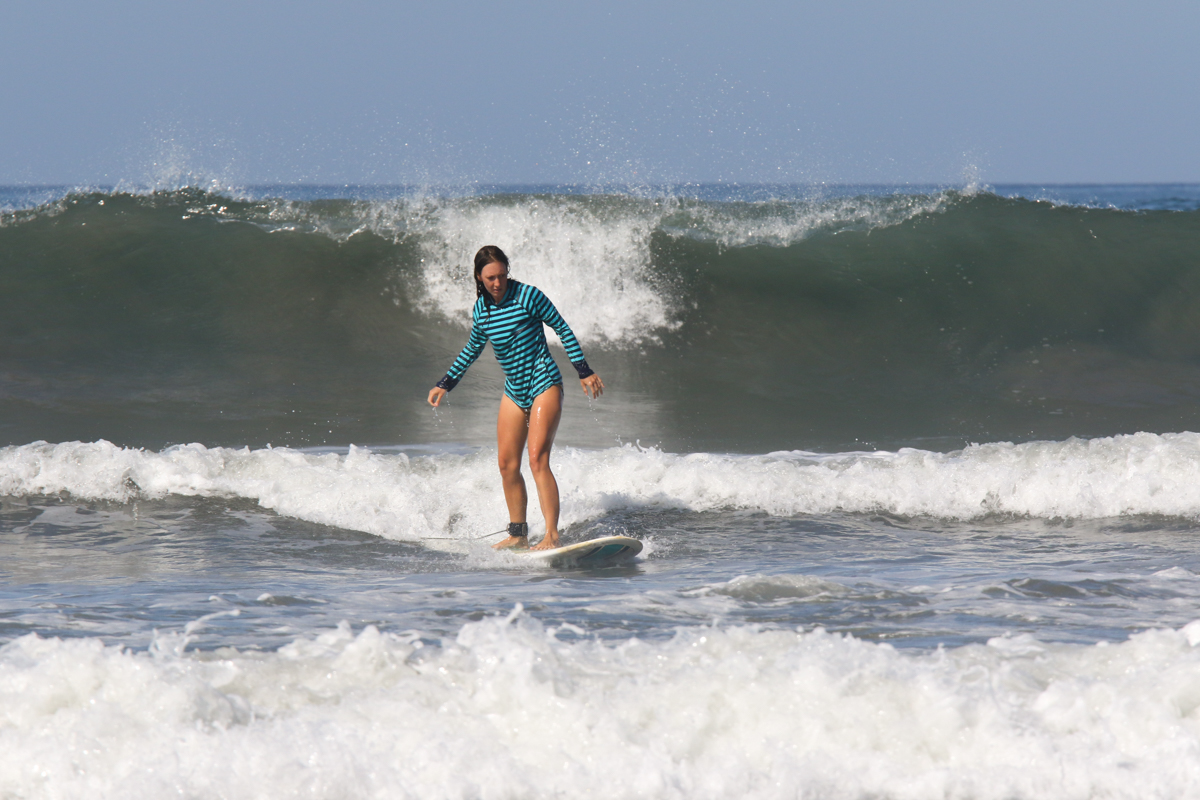 I'd like to say that after six weeks of trying to surf I'd be super confident to paddle out to the back line and catch big waves. The truth is I'm still scared of big waves on the back line, and often when I'm just about to catch one, I peer over the top, picture myself nose diving and then pull the board back the last moment. I'm nowhere near overcoming my "kook" (newbie) status, and I still only stick to the small waves I feel I can handle, but I still get a thrill every time I catch a good one, and I love the "stoke" I get after a great session – I have a big smile on my face for hours afterwards. These few weeks in Costa Rica were just the beginning of my surfing journey. I just need another long stay in a great surf spot – here's looking at a trip to Indonesia!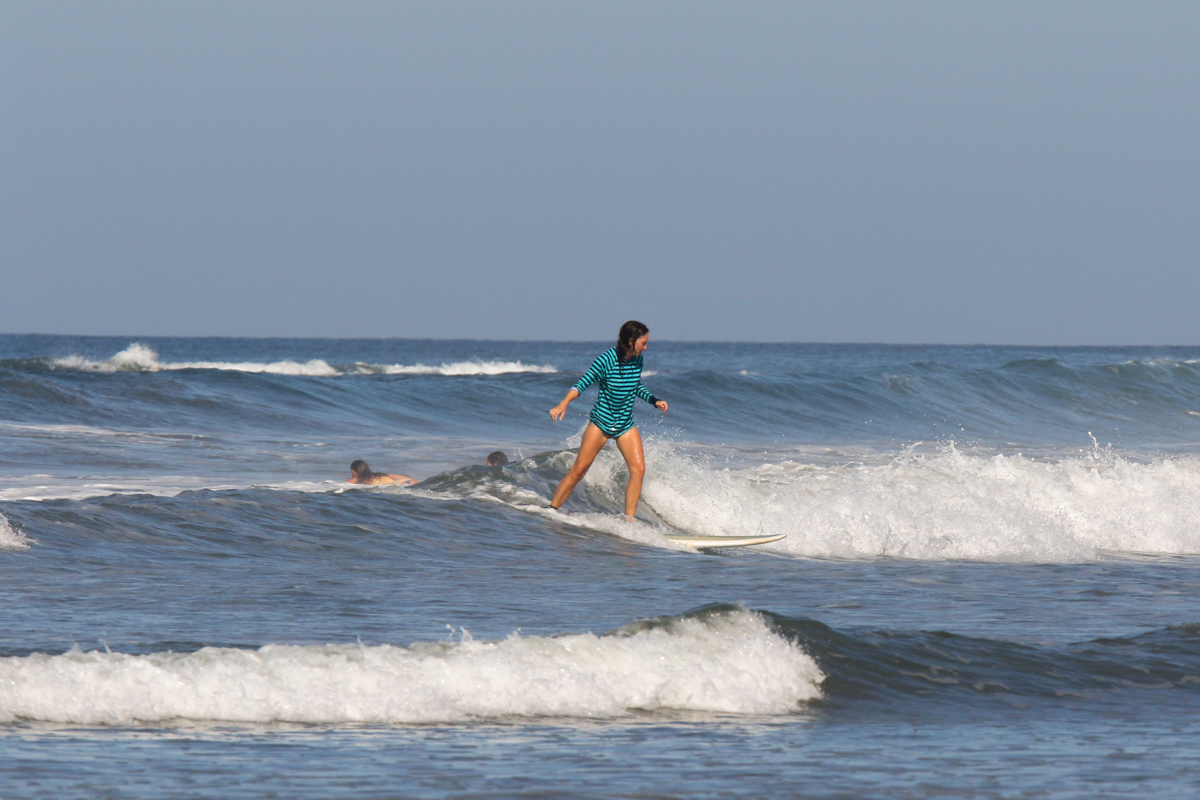 Pledging big commitments are not just for January; making a commitment starts with one step. With the help of Lumia, you can make it happen too. Above offering bi-weekly advice to help you achieve your goals, Lumia is also giving you the chance to win a Lumia device. Watch their latest video below to see how it's not done!
Google+