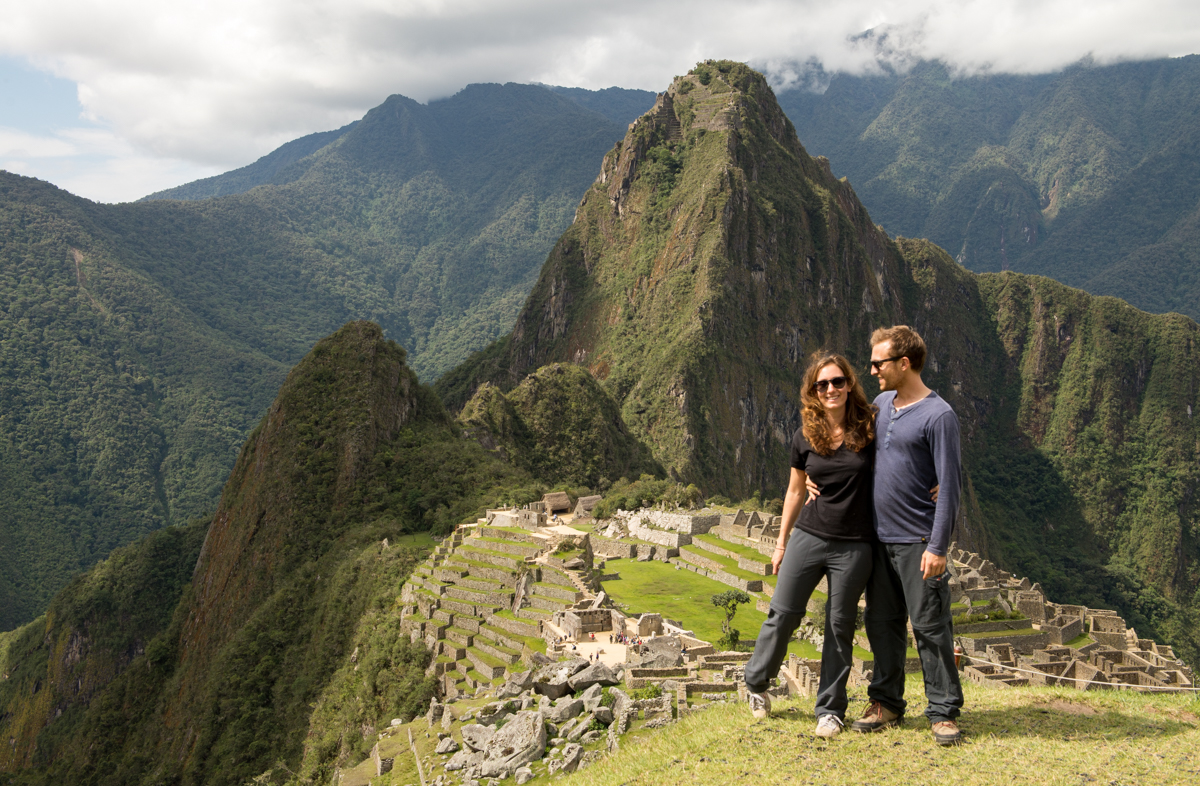 I've been on the road for over a year now. Exactly 420 days ago I said goodbye to Cape Town and headed off on the biggest trip of my life with my boyfriend, Joe.
Fifteen countries and tens of thousands of kilometres later, I feel like we've had a lifetime of amazing experiences that have changed my perspective on pretty much everything. I still can't quite believe that we road tripped across the USA twice, danced on top of a Celtic castle at Burning Man, trekked over a glacier in Patagonia, hiked in the driest place in the world, did yoga in the world's biggest salt flat, fished for piranhas in the Amazon, saw Machu Picchu, swam with sea lions in the Galapagos Islands, learnt to scuba dive in Colombia, survived dengue fever, learnt to surf in Costa Rica, dived a cenote in Mexico, watched the sun rise over the rainforest from the top of a Mayan temple in Guatemala and dived between the continental plates in Iceland. 
I've learnt so much along the way – enough to fill reams of blog posts – but the very first thing I had to learn was how to be mobile. That meant giving a lot of my stuff away in Cape Town, packing the remainder up into boxes to store in my parents' basement, and deciding what few things to fit into a suitcase to travel with me for over a year.
I've had to learn the hard way that travelling with a lot of stuff is not easy, and so right from the start of this trip I knew I had to pack light. I decided to go with a suitcase/backpack hybrid, so that I can wheel it around airports but also put it on my back when trekking across a beach to reach a remote backpackers.
My packing list was small and ultra-practical, with clothes that had to work for a number of different environments – from going out in New York, trekking in snowy Patagonia and surfing in Costa Rica to hiking in the humid jungles of Colombia.
This is what I call my #AchieveMore packing list: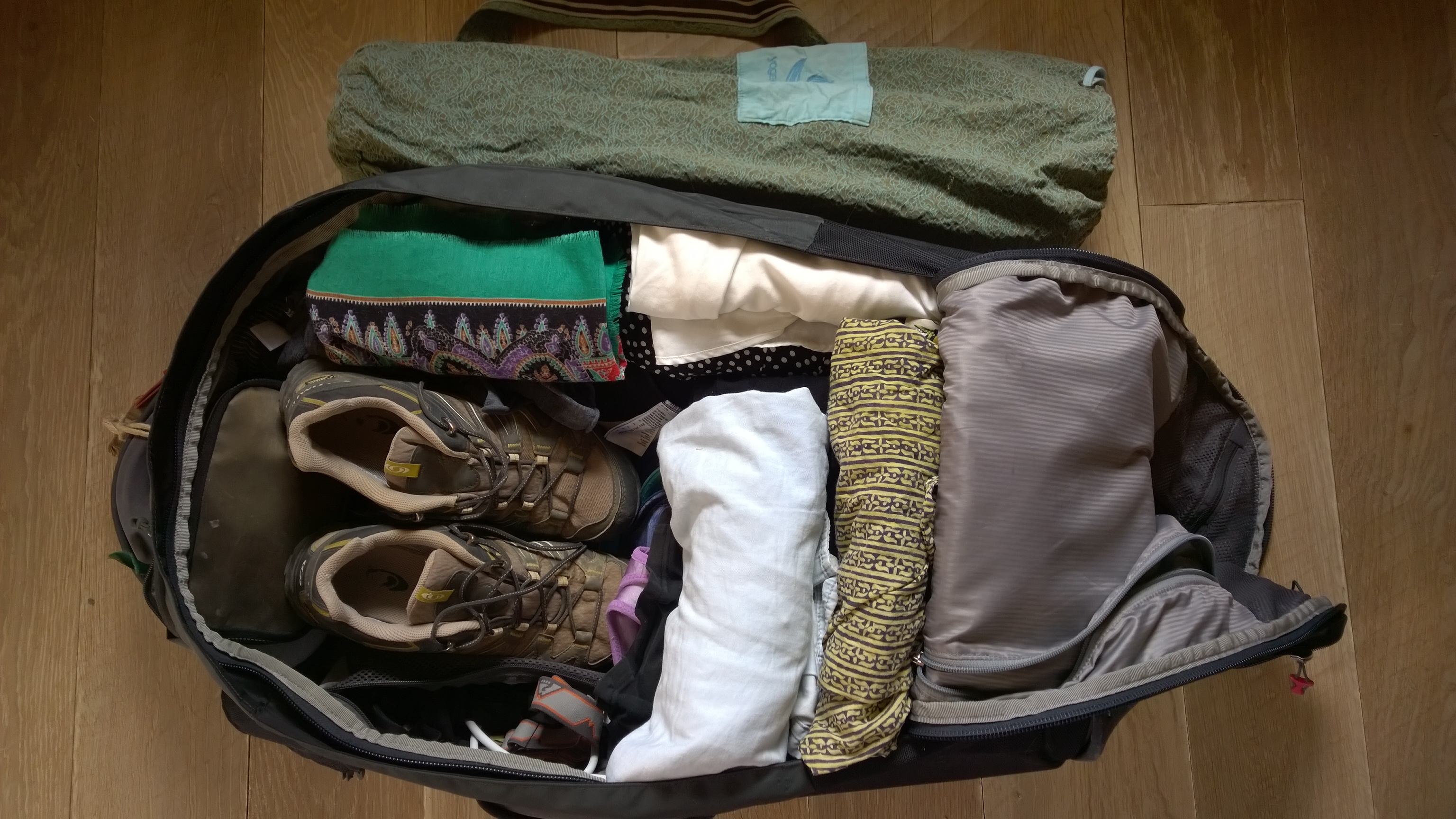 – Uniqlo down jacket (which rolls up into a tiny pocket – doubles as a travel pillow)
– Black leggings (for yoga, exercise, wearing under a dress and as pants)
– Skinny jeans (essential)
– Denim shorts
– Black hoodie
– Black short dress
– Denim long sleeved shirt (remarkably versatile)
– Scarf and beanie
– Long sleeved thermal vest
– Hiking pants
– Comfortable shorts (for exercise, hiking, pyjamas)
– Trainers, hiking shoes, sandals
– Two bikinis
– Sarong (doubles as a towel, scarf, Burning Man head protector)
– A couple of t-shirts and sleeveless tops
– Yoga mat (this is bulky but I can't travel without it!)
Add to that a bag of toiletries and that's about it! Having less stuff means that catching lots of taxis/buses/trains/boats/flights isn't a mission. It's painful having to move around a lot when you are laden down with heavy bags.
Being mobile has also meant taking my office with me on the road, because I've been working right the way through this trip. Luckily as a travel writer and photographer, I don't have too much equipment – just my Macbook, three portable rugged hard drives, my camera and a few lenses, my Kindle and an iPod for all those long flights and bus rides.
One of the most important things I have with my (other than my passport) is my smartphone. When I'm on the move, my phone – which recently has been a Lumia Device – is a camera, a notebook and a computer. While I shoot photos for magazine stories on my SLR camera, I take photos of little things to help me remember details for stories on my smartphone – anything from the writing on adverts on a noticeboard to the kind of sweets for sale in a market. I often don't know what stories I'm going to end up writing about a place, so I have to be sure that I take down as many details as I can.
My phone is full of useful apps downloaded from the Windows Phone Store to help me #AchieveMore in while I'm on the road working.
One of my favourites is Evernote, an incredibly useful app that functions like a notebook. Evernote allows you to create notebooks filled with typed notes, photos and audio notes – perfect for a travel writer like me. I create a notebook for each place I travel to, and save things like photos of menus, audio notes describing a place I'm in and quick ideas or things I observe – the kind of things I would forget otherwise.
I always try to learn some phrases of a local language when I travel, and language apps are great for helping you master the basics. My two favourite apps are Duolingo, which helps you learn words quickly, and Babbel, which teaches you the basics, starting with easy sentences and grammar. Then there's Translator, which is really handy if you're completely stuck with deciphering a sign or a menu – the app allows you to take a photo of the words you don't understand and then it translates them for you.
My phone is also my link to friends and family at home. I often get asked if I've been homesick on this trip and the honest answer is that I haven't once missed home, because I've never grown tired or bored of any place I've found myself in – the constant novelty of new countries is endlessly stimulating and exciting. I do, however, miss the people I love – a lot. The only way around this is to keep in touch, which I do as much as possible. It's obvious then, that an app I can't live without is Skype. I really don't know what I'd do without video conversations!
Deciding to go on this extended trip around the world was all part of a plan to #AchieveMore with my life – more adventures, more experiences, more learnings, more fun. I've made travelling longterm work by fitting my freelance work in around travel – luckily being a travel writer, the more I travel, the more I can work! Having a Lumia smartphone has enabled me to do just that – to seamlessly blend work and travel so that I can fit it all in. Working on the road like this has not always been easy – there have definitely been some down points – but being equipped to deal with the challenges that arise is all about the #AchieveMore plan.
Tell me in the comments how you #AchieveMore when you travel and you could win a Lumia device!
Google+