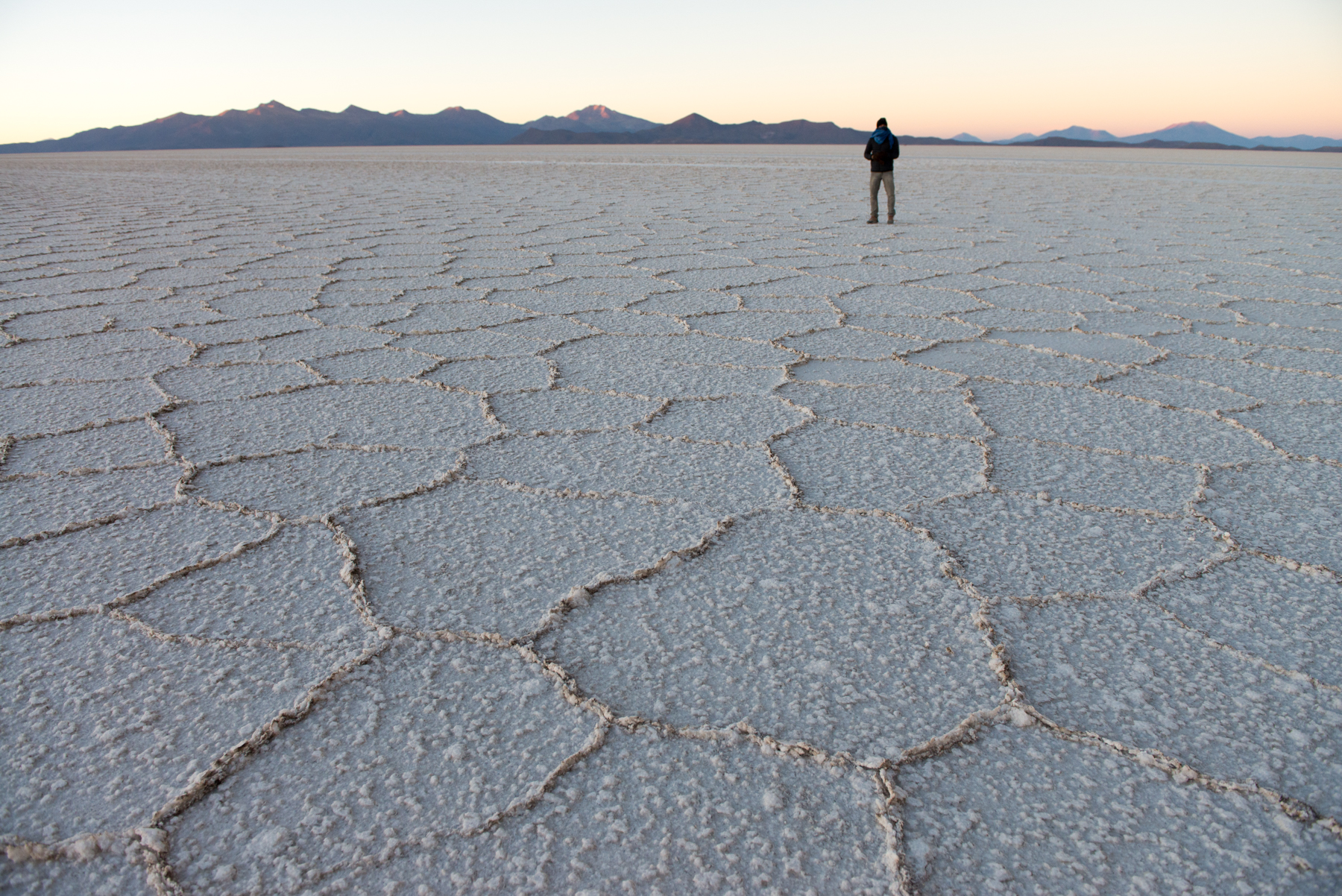 My introduction to Bolivia couldn't have been more dramatic: a border crossing from Chile at over 4000 metres above sea level in the freezing early morning with the giant Licancabur Volcano looming in the background, followed by three days of offroading in a Land Cruiser through some of the most beautiful and unusual landscapes I've ever seen.
After a breakfast of sandwiches and mint tea in a tiny hut next to the tiny hut of the Bolivian border post, my boyfriend and I crammed into a dusty Land Cruiser (where neither the heater nor the odometer worked) with four strangers, no seatbelts and a Bolivian driver who looked about 16 and spoke no English.
It doesn't sound like a recipe for travel success, but it was. Jorge turned out to be an excellent driver and the friend-making in the car happened in a mix of English, French and Spanish. The next three days were spent on a grande aventure cruising through Bolivia's Reserva Nacional de Fauna Andina Eduardo Avaroa, stopping to look at a spectacular sequence turquoise and white lagoons, driving through a terracotta desert strewn with ancient volcanic rocks like the background of a Salvador Dali painting, swimming in 36-degree hot springs at 4800 metres above sea level in a bitingly cold wind, photographing a field of geysers and a solidified field of lava that looked like brownie mixture as a volcano smoked on the horizon. We spotted one lone fox, tiny flocks of vicuñas and llamas and pink ribbons of flamingoes on a lagoon the colour of dark rust. People posed for photographs on a lonely train track through the nothingness of the desert when suddenly a tiny one-carriage train appeared on the horizon and whizzed past.
We slept in simple refugios – one at about 4500 metres, where I woke up many times in the night gasping for breath – and a salt hotel, where the walls, floor and tables were lickable, ate a lot of potatoes and fried eggs and chewed coca leaves for the altitude.
On the last day we woke up at 4am and packed up our car under a sky thick with stars and drove out to Salar de Uyuni, the world's largest salt flat (the same size as Lebanon), to watch the sun rise over the hexagonal puzzle shapes of the thick salt crust. In the early dawn light we explored Isla Incahuasi, an island of giant cactuses so surreal and beautiful it stunned almost everyone into silent contemplation. As the sun turned the salt flat a blinding white, Jorge drove us fast straight across the salt flat blasting his favourite tune "Me gusta bailar" as a German girl on top the car next to us took off her top and held on to the roof racks as her blonde hair whipped behind her.
How to do a 4×4 trip through Bolivia's southwest and Salar de Uyuni
There are a number of tour operators offering 4×4 trips in Land Cruisers through Bolivia, either from San Pedro de Atacama in Chile or from the dusty town of Uyuni in Bolivia. There have been some really bad reports about the cheaper tours regarding things like drivers drinking, so it's not worth it to skimp on cost. The trips are either three days or four days, and you can either do a one-way route or a circular route, back to San Pedro or Uyuni. You can book private tours but these are pretty expensive. Most people opt for joining in with a group. If you can, make some friends before you do the trip, and share a car with them. My boyfriend and I were lucky – we had a great group in our car, and we were travelling in convoy with two other cars filled with a friendly bunch of people from around the world.
After doing a lot of research, I decided to go with Cordillera Traveller. The communication from their office was pretty bad before the trip (like not telling us we needed to bring our own water), but other than that the trip was great. We had an amazing driver, Jorge, who at first looked worryingly young, but turned out to be a great driver, knowledgeable guide and fun guy. Our month of Spanish lessons definitely came in handy – he, nor any of the other drivers, spoke no English.
Our two-night three-day trip from San Pedro to Uyuni cost $180, which included accommodation – one night in a basic hostel where we shared a six-bed room, and one night in a salt hotel where we had double or triple rooms – and meals. The food wasn't fantastic (especially for vegetarians) but with the high altitude, I hardly felt hungry. If you eat a lot take snacks with you!
You are at very high altitudes for most of the trip. Make sure you acclimatise for a few days by staying in a fairly high place (such as San Pedro) before doing the 4×4 trip. Most of our group had headaches – including me, despite taking aspirins and altitude sickness pills. Chewing coca leaves and drinking coca tea was actually the only thing that helped. It's also incredibly dry, so bring a large tube of lip ice and lots of moisturiser.
I felt saddened to see so much toilet paper at the "bano naturales" where people had gone to the loo behind bushes and on rocks. Please take your toilet paper with you! Each day there are dozens of people doing this trip, and if everyone leaves toilet paper behind each time they make a natural wee, the most beautiful places on the route will look like the outskirts of Uyuni – a trash wasteland.